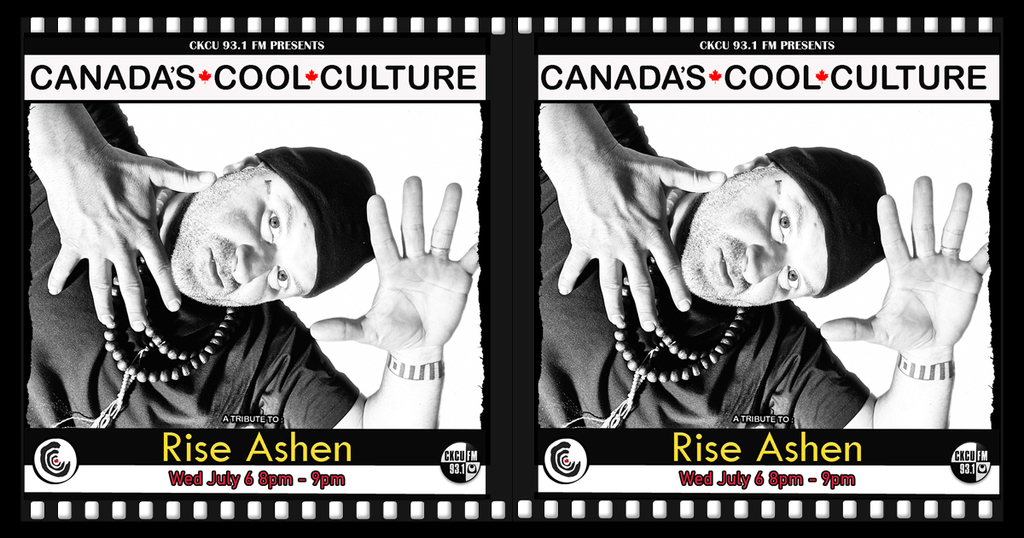 Canada's Cool Culture
Wednesday July 6th, 2022 with Muddy Watters
Rise Ashen
A tribute to Rise Ashen! The Musician, Producer, DJ, and B-Boy talks to us about his incredible career. Featuring music from his solo recordings and collaborative projects with Flying Down Thunder, AMMOYE, Trevor Walker, Silla, and more! Rise Ashen bandcamp:
https://riseashen.bandcamp.com/
Bio: Ottawa-based Rise Ashen has devoted his life to the study of sound and movement. From his early years as a B-Boy in Montreal in the 80s to his studies at Fanshawe College (North America's Oldest Recording School) and the Banff Centre for the Arts, his focus has been on applying hi-fi knowhow to underground music. His record collection spans the 4 corners of the world with club music of all tempos as his primary focus. As a DJ, he blends it all in a worldy mash and is always the sweaty and dynamic life of the party. He has played in clubs and festivals across the US, Canada, Europe and Asia and has licensed music for use in dozens of countries. His study of Yoga has led him to combine his musical journey with his Yogi journey and he has been DJing extensively for yoga classes, festivals and events since 2012. He has remixed and collaborated countless artists including Mali's Issa Bagayogo, Montreal (Juno award winner) Miguel Graca, Jojo Flores, Fred Everything and Kat 5 of the KALMUNITY collective, Toronto based (2-time Juno nominated) Ammoye, (Juno Award winner) Dubmatix, Version XCursion, LAL, (Juno Award Winner) Eccodek, (Juno Award Winner) Kobotown, King Sunshine, the New Deal and Bageshree, UK's Sean Escofferey, John Beltran, Steph Lefrancois and Josef Malik, New York's Angel Moraes and Nickodemus, Winnipeg's Paris to Kiev, Kasm and Seed Organisation, and Trevor "Lifeboogie" Walker, John Akpata, and Shegun Beautiful Nubia Akinlolu, Brandon Wint, Bhavan2 , Tara Proter, Lucila Al Mar Ottawa Algonquin Singer Flying Down Thunder with whom he received a Juno nomination in 2012 for their debut album: One Nation, as well as a Native American Music Awards nomination in 2014 for their sophomore album: North Wind. His music gets played played by the likes of Larry Heard, Masters at Work, Roger Sanchez, Paul Murphy, Gilles Peterson, Laurent Garnier, Maurice Fulton, Bonobo, Mr. V, Rainer Truby, and Quentin Harris among others. He has shared the stage with such varied greats as K'Naan, The Ethnic Heritage Ensemble, Kid Koala and Jully Black among others. Recently he has been collaborating with Silla, the Inuit throat-singing duet made up of Cynthia Pitsiulak and Charlotte Qamaniq, with whom he just released a full-length debut which was long-listed for the Polaris Prize and nominated for a Juno Award for Best Indigenous Recording. They perform as a trio with rise playing electronic percussion. Their new album, Galactic Gala has just been nominated for a Juno for World Music Album of the Year. He is currently working on a full length album with Kahil El Zabaar and the Ethnic Heritage Ensemble of Chicago. He believes music and dance are essential to human culture and that united, artists can lead humanity towards a more enlightened way of living. He aspires to embody the wise words of Fela Kuti: "when the higher forces give you the gift of musicianship …it must be well used for the good of humanity"
Nova Gente - Original Mix
Miguel Graca, Rise Ashen -

Change Our Ways - Stripped Down Mix
Rise Ashen -

Music In The City - ft. Nick - E
Rise Ashen - Music In The City

Muerte De Sly
Rise Ashen -

Venenosa ('09 Deep Mix - ft. Paulo Collier)
Rise Ashen, Stephane Lefrancois, Paulo Collier -

Second Wind - Rise Ashen's Club Dub
Rise Ashen -

Harpsody
Rise Ashen - Earth Dragon

Howyougonnaliveyourlife
Rise Ashen - Earth Dragon

Yellow and Green
Rise Ashen - Crazy Spirit

Crazy Spirit
Rise Ashen - Crazy Spirit

Twisted
Rise Ashen - Music In The City

Music Is Goin On
Rise Ashen, Trevor Walker - Music In The City

Abatina Rose - Kobo Town vs Rise Ashen
Rise Ashen - Music In The City

One Love - Instrumental Journey
Rise Ashen -

Mad Dem
Ammoye, Rise Ashen - Haffi Win

Kakina Nimig - All Dance
Flying Down Thunder and Rise Ashen - One Nation

Nigan Mikan - The Road Ahead
Flying Down Thunder and Rise Ashen - One Nation

Anirniq
Silla and Rise - Silarjuaq

Atausiq - One
Silla and Rise - Debut

Nutarannut (For The Children) - ft. Tanya Tagaq
Silla and Rise - Silarjuq

Nibiru (Rise Mix)
Rise Ashen, Trevor Walker -

Space
Rise Ashen, Trevor Walker -

Brazalien - ft. Tamima Brasil
Rise Ashen - Music In The City

Cancion Para Sus Almas
Rise Ashen - Earth Dragon

Offramp
Rise Ashen -