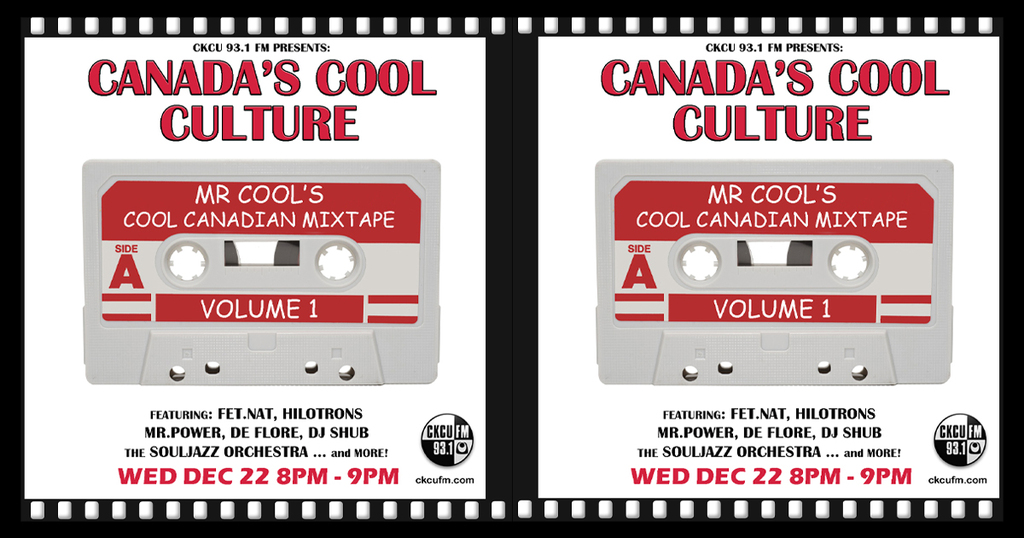 Canada's Cool Culture
Wednesday December 22nd, 2021 with Mr. Cool & Rock n Roll Bot
Mr. Cool's Cool Canadian Mixtape Volume 1
It's Mr. Cool's Cool Canadian Mixtape Volume 1! Featuring Ottawa/Gatineau area artists FET.NAT, HILOTRONS, Mr. Power, De Flore, DJ Shub, The Souljazz Orchestra, and so much more from across the nation!! Hosted by Mr. Cool and Rock n Roll Bot!
Hockey Night in Canada Theme
Dolores Claman -

Shock and Awe
The Souljazz Orchestra - Resistance

Stompin' at Le Savoi
Kid Koala - Some Of My Best Friend's Are DJ's

Daddy Would You Like Some Sausage?
Tom Green - The Tom Green Show

Astroman
HILOTRONS - Bella Simone

Intro
Nirvanna the Band the Show - The Banner

Pop Looks Bach (Ski Sunday Theme)
Cavendish Orchestra -
Welcome To Videodrome
Howard Shore - Videodrome

Patio Tuesday
FET.NAT - Le Mal

Home
Caribou - Suddenly

Lite Spots
Kaytranada - 99.9%

Smoke Dance Four
Dj Shub - War Club

The Odyssey Theme
The Odyssey -

Neige Neige Du
Erin Wall - Mahler Symphony No.8 Symphony Of a Thousand Pt.2

Some Place Else
MorMor - Some Place Else

L'été ne reste pas
De Flore - L'été ne reste pas

Having an Average Weekend
Shadowy Men On A Shadowy Planet - Savvy Show Stoppers

Dripsody
Hugh Le Caine - Compositions Demonstrations 1946-1974

Philosopher's Calling
Crack Cloud - Crack Cloud

BWV 988: Variation 5 a 1 ovvero 2 clav
Glen Gould, Johann Sebastien Bach - Goldberg Variations

Bluebloods
Mr. Power - Romance

Here Come De Honeyman
Oscar Peterson - The Very Best of Oscar Peterson

Welfare Bread
King Khan and the Shrines - What Is?!

We Are Sex Bob-Omb
Sex Bob-Omb - Scott Pilgrim vs. The World

Tongues
Tanya Taguq - Tongues

The Least Impossible
Gord Downie - Away Is Mine

The Goal
Leonard Cohen - Thanks For The Dance

Trailer Park Boys Theme Song
Brooklyn Boogaloo Blowout -