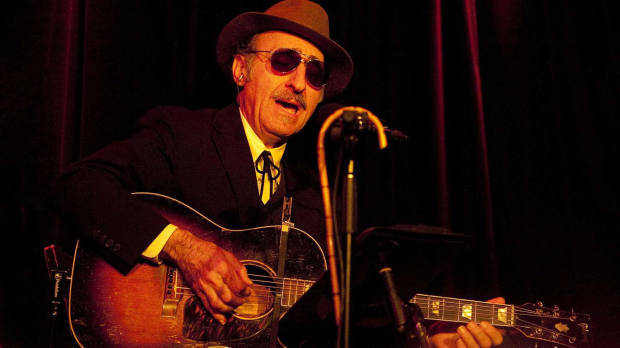 Stranger Songs
Tuesday January 31st, 2023 with Mike Regenstreif
Songs I've heard Leon Redbone Sing
The theme on this edition of Stranger Songs is "Songs I've Heard Leon Redbone Sing." Leon Redbone, who died in 2019 at age 69, was a mysterious figure who played meticulous arrangements of old blues, jazz and Tin Pan Alley songs. Click on LISTEN NOW to hear this show. Click on LISTEN to hear the current CKCU broadcast.
fragment of The Stranger Song
Leonard Cohen - Songs of Leonard Cohen - Columbia/Legacy

Sweet Mama Papa's Gettin' Mad
Leon Redbone - Live_The Olympia Theater, Paris, France - Rounder
Lulu's Back in Town
The Hot Sardines - Welcome Home, Bon Voyage - Eleven
Some of These Days
Jeff Healey - The Best of the Stony Plain Years: Vintage Jazz, Swing and Blues - Stony Plain

My Blue Heaven
Guy Van Duser & Billy Novick - Exactly Like Us - Rounder
Shine On Harvest Moon
Dawn Tyler Watson & Paul Deslauriers - En Duo - Justin Time

Champagne Charlie
Leon Redbone - Champagne Charlie - Warner Bros.
Big Bad Bill is Sweet William Now
Ry Cooder - Jazz - Warner Bros.
Marie
Leon Redbone - On the Track - Warner Bros.
Crazy Blues
The Whiteley Brothers - Bluesology - Pyramid

Somebody Stole My Gal
Mose Scarlett - Precious Seconds - Borealis

My Walkin' Stick
Hotcha! - Dust Bowl Roots: Songs for the New Depression - Hotcha!

Nobody's Sweetheart Now
Paul Geremia - Gamblin' Woman Blues - Red House
Louisiana Fairy Tale
Leon Redbone - Any Time - Rounder
Seduced
Mary Coughlan - Tired & Emotional - EastWest
Your Cheatin' Heart
Martha Seyler & Robert Resnik - Martha Sings & Robert Plays - Martha Seyler & Robert Resnik
Lovesick Blues
Sneezy Waters - Sneezy Waters Sings Hank Williams - Borealis

I Ain't Got Nobody
Jackie Washington with Mose Scarlett & Ken Whiteley - Sitting on a Rainbow - Borealis

Ghost of the St. Louis Blues
Leon Redbone - Sugar - Rounder
Ain't Misbehavin'
Patti Casey with Paul Asbell - Just an Old Sweet Song - Long Shot Music
Your Feets Too Big
Dave Van Ronk - Sweet & Lowdown - Justin Time
Step It Up and Go
Andy Cohen - Tryin' to Get Home - Earwig
When I Take My Sugar to Tea
Roberta Donnay & The Prohibition Mob Band - Bathtub Gin - Motema
Alabama Jubilee
Leon Redbone - Champagne Charlie - Warner Bros.
When You Wish Upon a Star
Missy Burgess & Michael Burgess - Pour Me a Song - Patio

Please Don't Talk About Me When I'm Gone
Duke Robillard & Kelley Hunt - Duke Robillard and his Dames of Rhythm - M.C.
Polly Wolly Doodle
Leon Redbone - On the Track - Warner Bros.
fragment of The Stranger Song
Leonard Cohen - Songs of Leonard Cohen - Columbia/Legacy