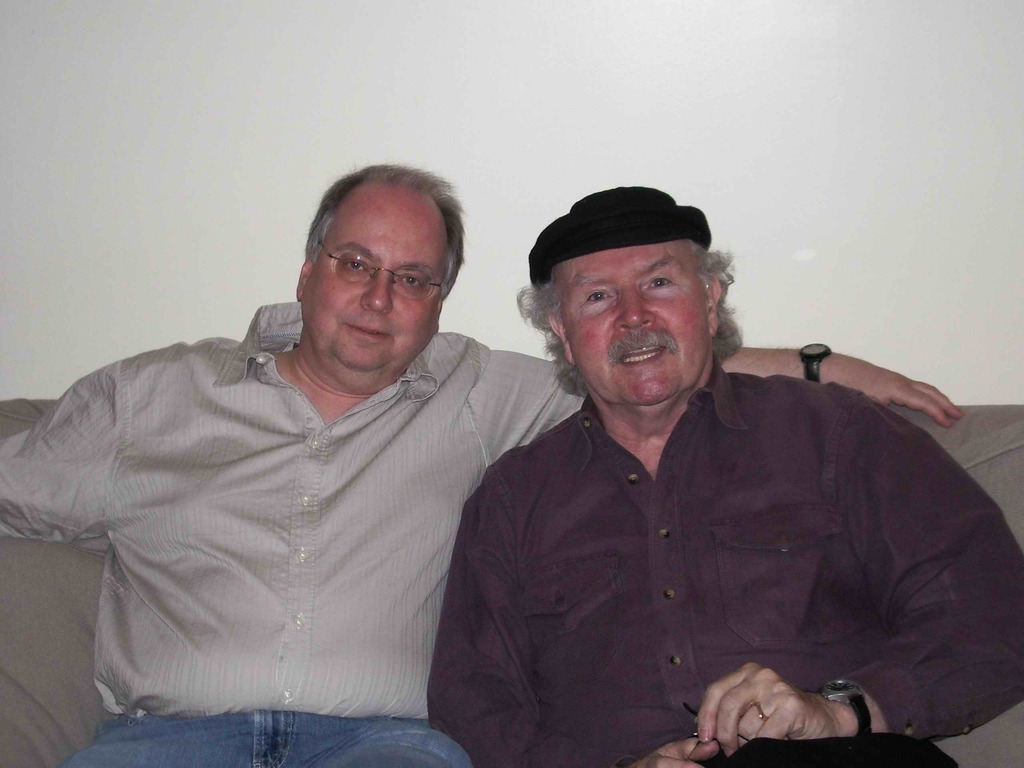 Stranger Songs
Tuesday January 3rd, 2023 with Mike Regenstreif
Songs of Tom Paxton
"Songs of Tom Paxton" is the theme for the first edition of Stranger Songs for 2023. Tom Paxton, who is now 85, has been one of the greatest folk-rooted singer-songwriters since the early-1960s. Click on LISTEN NOW to hear this show. Click on LISTEN to hear the current CKCU broadcast.
fragment of The Stranger Song
Leonard Cohen - Songs of Leonard Cohen - Columbia/Legacy

Wish I had a Troubadour
Tom Paxton - The Compleat Tom Paxton (Even Compleater) - Rhino Handmade
Can't Help But Wonder Where I'm Bound
Nanci Griffith - Other Voices/Other Rooms - Elektra
Leaving London
Doc Watson - Portrait - Sugar Hill
Outward Bound
Cindy Mangsen - Long Time Traveling - Compass Rose Music
Victoria Dines Alone
Tom Paxton - Morning Again - Elektra
The Last Thing on My Mind
Peter, Paul & Mary - See What Tomorrow Brings - Warner Bros.
(My) Ramblin' Boy
Pete Seeger - We Shall Overcome: The Complete Carnegie Hall Concert, June 8, 1963 - Columbia
fragment of The Stranger Song
Leonard Cohen - Songs of Leonard Cohen - Columbia/Legacy

Has Annie Been in Tonight
Tom Paxton - Up & Up - Mountain Railroad
Annie's Going to Sing Her Song
Bob Dylan - Another Self Portrait 1969-1971: The Bootleg Series Vol. 10 - Columbia/Legacy
When Annie Took Me Home
Tom Paxton - New Songs for Old Friends - Reprise
Central Square
Geoff Bartley - Blackbirds in the Pie - Geoff Bartley
The Hostage
Judy Collins - True Stories and Other Dreams - Elektra
What If, No Matter
Magpie - A Tiding - Longtail
When the Big Bad Books Go 'Boo!'
Tom Paxton, Cathy Fink & Marcy Marxer - All New - Community Music
Mother
Anne Hills - The Things I Notice Now: Anne Hills sings the songs of Tom Paxton - Appleseed
Fare Thee Well, Cisco
Tim Grimm - Thank You Tom Paxton - Vault
Did You Hear John Hurt?
Dave Van Ronk - Somebody Else, Not Me - Philo
Bottle of Wine
Tom Paxton & The DonJuans - Live - Pax
(Coming Through) And Loving You
Josh White, Jr. - By Request - Silverwolf
Hold on to Me, Babe
Kate Wolf - Looking Back at You - Rhino
Everytime
Patrick Sky - Patrick Sky - Vanguard
Comedians and Angels
Tom Paxton - Comedians and Angels - Appleseed
The Honor of Your Company
Tom Paxton - Wearing the Time - Sugar Hill
fragment of The Stranger Song
Leonard Cohen - Songs of Leonard Cohen - Columbia/Legacy

Although the broadcast date for this show is January 3rd, it is, or was, available for streaming on-demand several days before that. So, it's possible you're hearing the show on or before January 1st. On January 1st, from 7-10 pm (ET), the Greenwich Village Folk Festival is presenting a free, on-line concert celebrating Tom Paxton featuring Dan Boling; Tom Chapin; Judy Collins; The DonJuans; Cliff Eberhardt; Jackson Emmer; Eric Erickson; Cathy Fink & Marcy Marxer; Tim Grimm; Janis Ian; Christine Lavin; Chris Lowe; Kathy Mattea; Amanda McBroom; John McCutcheon; Holly Near; Noel Paul Stookey & Peter Yarrow; Josh White, Jr.; and Tom Paxton – with Ron Olesko and me as the MCs. You can watch it live or afterward on-demand from ... https://greenwichvillagefolkfestival.org/listen-livea.php?95