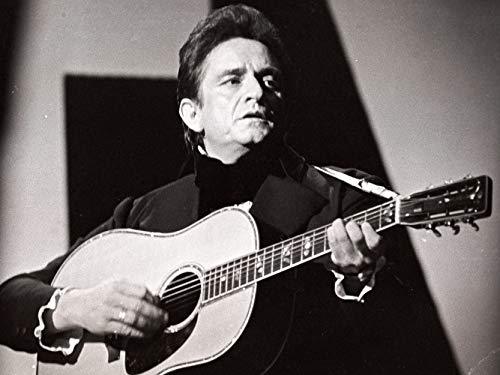 Stranger Songs
Tuesday August 2nd, 2022 with Mike Regenstreif
The Legacy of Johnny Cash
The theme for this edition of Stranger Songs is "The Legacy of Johnny Cash." Johnny Cash – who died in 2003 at age 71 and who drew on folk music, blues and rockabilly influences – was one of the greatest figures in country music history. On this show, we'll hear a few of Johnny Cash's recordings and some songs from his repertoire performed by other artists. Click on LISTEN NOW to hear this show. Click on LISTEN to hear the current CKCU broadcast.
fragment of The Stranger Song
Leonard Cohen - Songs of Leonard Cohen - Columbia/Legacy

I Walk the Line
Johnny Cash - Classic Cash - Mercury
Red Velvet
Johnny Cash - The Man in Black, 1963-1969, Plus - Bear Family

Come In Stranger
Ian & Sylvia - Early Morning Rain - Vanguard

Four Strong Winds
Johnny Cash - American V: A Hundred Highways - American Recordings

Big River
Ian & Sylvia - Movin' On 1967-1968 - Mercury

Tennessee Flat Top Box
Rosanne Cash - King's Record Shop - Columbia
Get Rhythm
John Stewart - Airdream Believer - Shanachie
W. Lee O'Daniel (and the Light Crust Dougboys)
Johnny Cash - Johnny Cash is Coming to Town - Mercury
Folsom Prison Blues
Fred Holstein - Live at the Earl of Old Town - Holstein
fragment of The Stranger Song
Leonard Cohen - Songs of Leonard Cohen - Columbia/Legacy

Veteran's Day
Johnny Cash - Wounded Heart of America (Tom Russell Songs) - HighTone
Wreck of the Old 97
Tom Russell - October in the Railroad Earth - Frontera
Cry, Cry, Cry
Norah Jones - The Fall: Deluxe Edition - Blue Note
I Still Miss Someone
Roy Forbes - Some Tunes for that Mother of Mine - AKA

Joshua Gone Barbados
Johnny Cash - Johnny 99 - Columbia
The Forty Shades of Green
Brendan Nolan - Live at the Side Door - Ould Segosha

Flesh and Blood
Emmylou Harris, Mary Chapin Carpenter & Sheryl Crow - Kindred Spirits: A Tribute to the Songs of Johnny Cash - Lucky Dog
If You Could Read My Mind
Johnny Cash - American V: A Hundred Highways - American Recordings

Girl from the North Country
Bob Dylan & Johnny Cash - Travelin' Thru: The Bootleg Series, Vol. 15, 1967-1969 - Columbia/Legacy
It Ain't Me Babe
Johnny Cash & June Carter Cash - Bob Dylan: The 30th Anniversary Concert Celebration - Columbia/Legacy
Train of Love
Bob Dylan - Kindred Spirits: A Tribute to the Songs of Johnny Cash - Lucky Dog
Guess Things Happen That Way
Bob Dylan & Johnny Cash - Travelin' Thru: The Bootleg Series, Vol. 15, 1967-1969 - Columbia/Legacy
Jackson
Johnny Cash & June Carter Cash - The Legend of Johnny Cash - American Recordings
Boy Named Sue
Shel Silverstein - Boy Named Sue and His Other Country Songs - Water
Sunday Mornin' Comin' Down
Kris Kristofferson - Me and Bobby McGee - Monument
Bird On a Wire
Johnny Cash - American Recordings - American Recordings
fragment of The Stranger Song
Leonard Cohen - Songs of Leonard Cohen - Columbia/Legacy