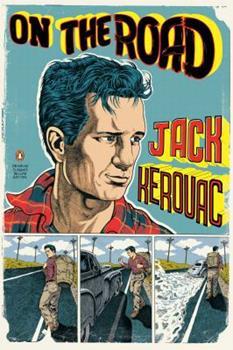 Stranger Songs
Tuesday March 15th, 2022 with Mike Regenstreif
Jack Kerouac at 100
This edition of Stranger Songs marks the centennial of the birth of beat poet and novelist Jack Kerouac. Kerouac, who died in 1969 at age 47 from a hemorrhage caused by cirrhosis due to long-term alcoholism, was born Jean-Louis Lebris de Kerouac to French Canadian parents in Lowell, Massachusetts on March 12th, 1922. Kerouac's mother tongue was French and he didn't learn to speak English until he went to school at age six. Despite being born in the U.S., Kerouac identified as Canadian. Click on LISTEN NOW to hear this show. Click on LISTEN to hear the current CKCU broadcast.
fragment of The Stranger Song
Leonard Cohen - Songs of Leonard Cohen - Columbia/Legacy

In the 1990s, the late Kate McGarrigle worked on – but didn't quite finish – a musical about Jack Kerouac. From that musical, "Jacques et Gilles," is about the French Canadians – like Kerouac's parents – who migrated to New England in the early years of the 20th century.
Jacques et Gilles
Kate & Anna McGarrigle - Matapedia - Hannibal

October in the Railroad Earth
Jack Kerouac with Steve Allen - The Kerouac Collection: Poetry for the Beat Generation - Rhino

October in the Railroad Earth
Tom Russell - October in the Railroad Earth - Frontera
MacDougal Street Blues
Jack Kerouac with Steve Allen - The Kerouac Collection: Poetry for the Beat Generation - Rhino

Bohemian Cowboy Blues
Jimmy LaFave - Blue Nightfall - Red House
Goofing at the Table
Jack Kerouac with Steve Allen - The Kerouac Collection: Poetry for the Beat Generation - Rhino

Washington D.C. Blues
Jack Kerouac with The David Amram Ensemble - Jack Kerouac reads On the Road - Rykodisc

Pull My Daisy
David Amram with Lynn Sheffield - No More Walls - Flying Fish
Stella Kerouac
Bob Martin - The River Turns the Wheel - Riversong
Babes in the Woods
Lyle Lovett - Step Inside This House - Curb/MCA
Jack & Neal/California Here I Come
Tom Waits - Foreign Affairs - Elektra
The Persecution and Restoration of Dean Moriarty
Aztec Two-Step - Live at Caffé Lena: Music from America's Legendary Coffeehouse 1967-2013 - Tompkins Square
Readings from "On the Road" and "Visions of Cody"
Jack Kerouac with Steve Allen - The Kerouac Collection: Poetry for the Beat Generation - Rhino

Intro Dean Moriarty/Dean Moriarty
Eric Taylor - Live at The Red Shack - Blue Ruby
fragment of The Stranger Song
Leonard Cohen - Songs of Leonard Cohen - Columbia/Legacy