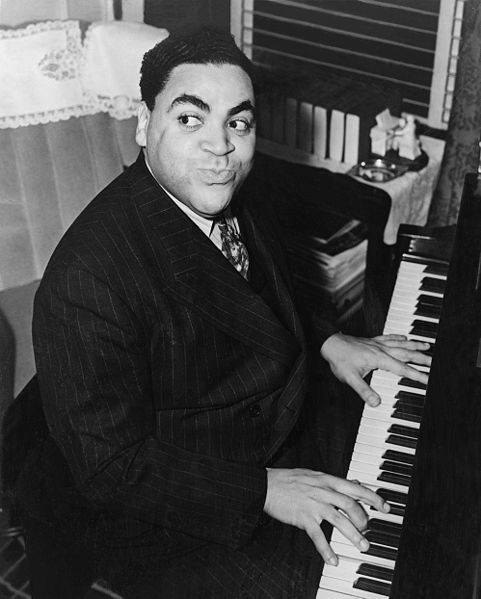 Stranger Songs
Tuesday February 22nd, 2022 with Mike Regenstreif
A Tribute to Fats Waller
The theme for this edition of Stranger Songs is "A Tribute to Fats Waller." Thomas Wright Waller, better known as Fats Waller, died in 1943 at age 39 after an all-too-brief career as an influential pianist, singer, and composer and as one of the most popular performers of his era. Some of the songs and instrumentals on this show were written by Waller, some were not, but all of them were performed and recorded by him at some point or another. Click on LISTEN NOW to hear this show. Click on LISTEN to hear the current CKCU broadcast.
fragment of The Stranger Song
Leonard Cohen - Songs of Leonard Cohen - Columbia/Legacy

Ain't Misbehavin'
Fats Waller - Happy Birthday Fats - True North
The Joint is Jumpin'
Jackie Washington - The World of Jackie Washington - Borealis

I Wish I Were Twins
Jeff Healey - Among Friends - Stony Plain

Keepin' Out of Mischief Now
The Hot Sardines - Welcome Home, Bon Voyage - Eleven
The Minor Drag
Fats Waller - The Joint is Jumpin' - Bluebird
Sweet Sue
Scarlett, Washington & Whiteley - Sitting on a Rainbow - Borealis

If You'se a Viper
Martin, Bogan & Armstrong - That Old Gang of Mine/Martin, Bogan & Armstrong - Flying Fish
Viper's Drag
Allen Toussaint - American Tunes - Nonesuch
When You and I Were Young Maggie
Fats Waller - Happy Birthday Fats - True North

I've Got A Feeling I'm Falling
Roberta Donnay & The Prohibition Mob Band - A Little Sugar - Motema
You're Not the Only Oyster in the Stew
Michael 'Earnie' Taylor - Folk 'n' Western - Laughing Cactus Music

Squeeze Me
Maria Muldaur - Waitress in a Donut Shop - Reprise
I'm Crazy 'Bout My Baby
Leon Redbone - Whistling in the Wind - Rounder
(What Did I Do To Be So) Black and Blue
Dinah Washington - Dinah Washington Sings Fats Waller - EmArcy
All That Meat and No Potatoes
Louis Armstrong & Velma Middleton - Satch Plays Fats - Columbia
Honeysuckle Rose
Susie Arioli Swing Band featuring Jordan Officer - Pennies from Heaven - Justin Time

Blues
Fats Waller - The Joint is Jumpin' - Bluebird
Lulu's Back in Town
Mose Scarlett - Precious Seconds - Borealis

Everybody Loves My Baby
Catherine Russell - Strictly Romancin' - World Village
Your Feets Too Big
Dave Van Ronk - Sweet & Lowdown - Justin Time
After You've Gone
Fats Waller - Happy Birthday Fats - True North
The Alligator Crawl
Tim Sparks - Sidewalk Blues - ToneWood
S'posin'
Jack Radcliffe & Al Oliveira - Two Hot to Handle - Wepecket Island
You're Slightly Less Than Wonderful
Fats Waller - Happy Birthday Fats - True North
Ain't Misbehavin'
Loudon Wainwright III with Vince Giordano & The Nighthawks - I'd Rather Lead a Band - Search Party
Yacht Club Swing
Fats Waller - The Joint is Jumpin' - Bluebird