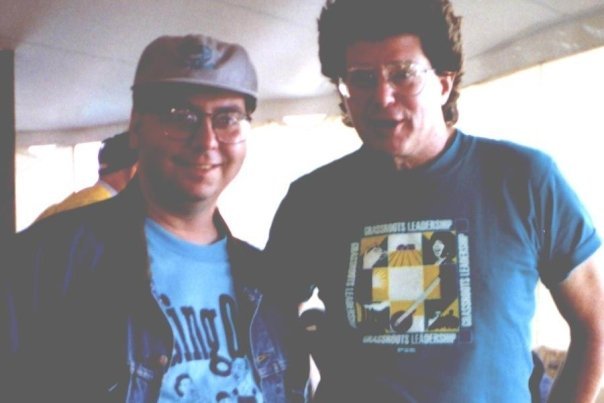 Stranger Songs
Tuesday November 23rd, 2021 with Mike Regenstreif
Songs and Conversation with Si Kahn
The theme for this edition of Stranger Songs is "Songs and Conversation with Si Kahn." Si is a singer, songwriter, author, playwright, labor organizer, and civil rights and environmental activist. All of the songs on the show were written by Si, except "I am a Union Woman," which was written by Aunt Molly Jackson. Photo: Mike Regenstreif (left) and Si Kahn (1995). Click on LISTEN NOW to hear this show. Click on LISTEN to hear the current CKCU broadcast.
fragment of The Stranger Song
Leonard Cohen - Songs of Leonard Cohen - Columbia/Legacy

Aragon Mill
Si Kahn & The Looping Brothers - Aragon Mill: The Bluegrass Sessions - Strictly Country
The conversation with Si Kahn was recorded on November 8, 2021 via Zoom.
Conversation, Part 1
Mike Regenstreif & Si Kahn -

Crossing the Border
Rude Girls - Mixed Messages - Flying Fish
Lady of the Harbor
Si Kahn - Best of the Rest - Strictly Country
Conversation, Part 2
Mike Regenstreif & Si Kahn -

I'm a Stranger in This Land
Joe Jencks - The Forgotten: Recovered Treasures from the Pen of Si Kahn - Turtle Bear Music
Conversation, Part 3
Mike Regenstreif & Si Kahn -

I am a Union Woman
Sue Massek - Precious Memories: A New Play by Si Kahn - Strictly Country
Conversation, Part 4
Mike Regenstreif & Si Kahn -

Pebble Mine
Si Kahn - Bristol Bay - Strictly Country
Conversation, Part 5
Mike Regenstreif & Si Kahn -

I Have Known Women
Saro Lynch-Thomason & Sam Gleaves - I Have Known Women: Songs by Si Kahn Celebrating Women's Lives and Struggles - Strictly Country
Conversation, Part 6
Mike Regenstreif & Si Kahn -

We Go On
Katie Oates - We Go On: Si Kahn's Songs of Hope in Hard Times - Hollow Reed Arts Recordings
Conversation, Part 7
Mike Regenstreif & Si Kahn -

Will's Will
Matt Watroba - The Far Si: The Si Kahn Funny Song Sing-Along Book - Matt Watroba
Conversation, Part 8
Mike Regenstreif & Si Kahn -

fragment of The Stranger Song
Leonard Cohen - Songs of Leonard Cohen - Columbia/Legacy