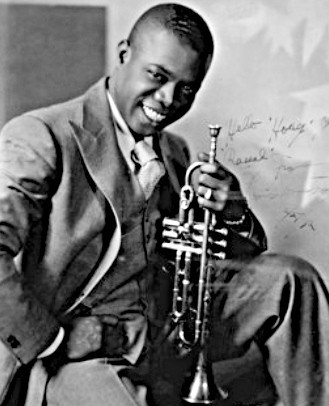 Stranger Songs
Tuesday September 28th, 2021 with Mike Regenstreif
A Tribute to Louis Armstrong
The theme for this edition of Stranger Songs is "A Tribute to Louis Armstrong." Louis Armstrong (1901-1971) was one of the most influential musicians and singers in the history of recorded music. All the songs on this show were recorded by Louis Armstrong at some point between 1926 and 1968. Click on LISTEN NOW to hear this show. Click on LISTEN to hear the current CKCU broadcast.
fragment of The Stranger Song
Leonard Cohen - Songs of Leonard Cohen - Columbia/Legacy

Where the Blues Were Born in New Orleans
Louis Armstrong - Memories of New Orleans - Saga Jazz
All of Me
Jackie Washington - The World of Jackie Washington - Borealis

After You've Gone
Samoa Wilson with The Jim Kweskin Band - I Just Want to Be Horizontal - Kingswood
Ol' Man Mose
Hotcha! - Dust Bowl Roots: Songs for the New Depression - Hotcha!

St. James Infirmary
Durham County Poets - Hand Me Down Blues - Durham County Poets

My Bucket's Got a Hole In It
Louis Armstrong & Edmond Hall - The Great Chicago Concert 1956 - Columbia/Legacy
Struttin' With Some Barbecue
Big Bad Voodoo Daddy - Louie Louie Louie - Savoy Jazz
Hesitating Blues
Eartha Kitt with Shorty Rogers & His Giants - St. Louis Blues - RCA
Yellow Dog Blues
Nat King Cole - St. Louis Blues - Capitol
Loveless Cove
Louis Armstrong & Velma Middleton - Louis Armstrong Plays W.C. Handy - Columbia/Legacy
Back O' Town Blues
Catherine Russell - Cat - World Village
Sweet Georgia Brown
Mose Scarlett - The Fundamental Things - Pyramid

Wild Man Blues
Billy Novick's Blue Syncopators - Music from The Great Gatsby - Billy Novick
I'm a Ding Dong Daddy (from Dumas)
Roberta Donnay & The Prohibition Mob Band - My Heart Belongs to Satchmo - Blujazz
Now You Has Jazz
Louis Armstrong & Trummy Young - Armstrong Comes Alive - Jazz2Jazz
You Rascal You
Loudon Wainwright III with Vince Giordano & The Nighthawks - I'd Rather Lead a Band - Search Party
Tiger Rag
Wynton Marsalis - Bolden: Music from the Original Soundtrack - Blue Engine
When It's Sleepy Time Down South
Kermit Ruffins - We Partyin' Traditional Style! - Basin Street
Down By the Riverside
Louis Armstrong - Louis and the Good Book - Verve
Do You Know What It Means to Miss New Orleans
Dave Van Ronk - Hummin' to Myself - Gazell
What a Wonderful World
Priscilla Herdman - Daydreamer - Music for Little People
When the Saints Go Marching In
Louis Armstrong - The Great Chicago Concert 1956 - Columbia/Legacy
Dr. Jazz
Louis Armstrong - Ain't Gonna Give Nobody None of My Jellyroll - Audio Fidelity