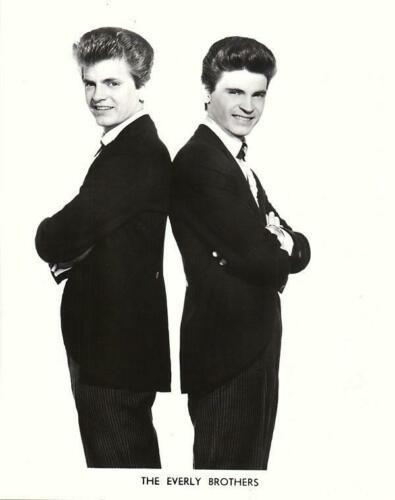 Stranger Songs
Tuesday September 7th, 2021 with Mike Regenstreif
A Tribute to The Everly Brothers
The theme for this edition of Stranger Songs is "A Tribute to The Everly Brothers." The Everly Brothers – Phil, who died in 2014 at age 74, and Don, who died on August 21st at age 84 – were a highly influential duo whose music encompassed rock 'n' roll, country and folk music. All the songs on this show were recorded, at one time or another, by The Everly Brothers. Click on LISTEN NOW to hear this show. Click on LISTEN to hear the current CKCU broadcast.
fragment of The Stranger Song
Leonard Cohen - Songs of Leonard Cohen - Columbia/Legacy

This Little Girl of Mine
The Everly Brothers - Cadence Classics: Their 20 Greatest Hits - Rhino
Bye Bye Love
Madeleine Peyroux - The Blue Room - Decca
Wake Up Little Susie
Simon & Garfunkel - The Concert in Central Park - Warner Bros.
Sleepless Nights
Kate Brislin & Katy Moffatt - Sleepless Nights - Rounder
All I Have to Do is Dream
The Persuasions - Good News - Rounder
Sweet Dreams
The Everly Brothers - Walk Right Back: The Everly Brothers on Warner Bros. 1960 to 1969 - Warner Archives
Love Hurts
Gram Parsons with Emmylou Harris - Grievous Angel - Reprise
When Will I Be Loved
Linda Ronstadt - Heart Like a Wheel - Capitol
('Til) I Kissed You
The Everly Brothers - Cadence Classics: Their 20 Greatest Hits - Rhino
fragment of The Stranger Song
Leonard Cohen - Songs of Leonard Cohen - Columbia/Legacy

Roving Gambler
Andy Hedges - Cowboy Songster - Yellowhouse
Down By the Willow Garden
Ian & Sylvia - Ian & Sylvia - Vanguard

Barbara Allen
Tim Grimm & Carrie Newcomer - Names - Wind River
Who's Gonna Shoe Your Pretty Little Feet?
Bille Joe + Norah - Foreverly - Reprise
I'm Here to Get My Baby Out of Jail
The Everly Brothers - Songs Our Daddy Taught us - Rhino
Walk Right Back
Nanci Griffith - Other Voices, Too (A Trip Back to Bountiful) - Elektra
On the Wings of a Nightingale
The Everly Brothers - EB 84 - Mercury
Stories We Could Tell
John Sebastian - Faithful Virtue: The Reprise Recordings - Rhino
The Brand New Tennessee Waltz
The Everly Brothers - Stories We Could Tell - RCA

Bowling Green
Jesse Winchester - Seem Like Only Yesterday: Live in Montreal 1976 - Real Gone Music

So Sad
Kate Brislin & Katy Moffatt - Sleepless Nights - Rounder
Let It Be Me
Roberta Flack - Chapter Two - Atlantic
Brand New Heartache
Gram Parsons with Emmylou Harris - Sleepless Nights - Reprise
Bird Dog
Doc Watson - Docabilly - Sugar Hill
I'm Movin' On
The Everly Brothers - Walk Right Back: The Everly Brothers on Warner Bros. 1960 to 1969 - Warner Archives

Asleep
The Everly Brothers - EB 84 - Mercury