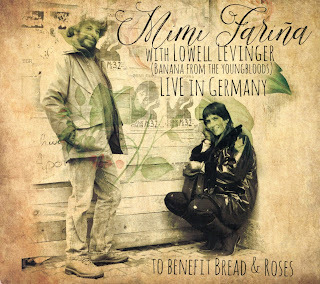 Stranger Songs
Tuesday July 20th, 2021 with Mike Regenstreif
Remembering Mimi Fariña
Our theme on this week's edition of Stranger Songs is Remembering Mimi Fariña. Mimi – the younger sister of Joan Baez and the musical partner and widow of important singer, songwriter and author Richard Fariña – passed away 20 years ago this week on July 18, 2001 from cancer at the young age of 56. Most of the show is devoted to a concert recorded in 1988 for German radio. Click on LISTEN NOW to hear this show. Click on LISTEN to hear the current CKCU broadcast.
fragment of The Stranger Song
Leonard Cohen - Songs of Leonard Cohen - Columbia/Legacy

Pack Up Your Sorrows
Mimi & Richard Fariña - Celebrations for a Grey Day - Vanguard
Mimi Fariña was an activist and in 1974, she founded a non-profit organization called Bread & Roses in the San Francisco Bay area that presents more than 600 concerts per year in institutions ranging from children's day care centres and special needs schools, to hospitals, adult and juvenile detention facilities, homeless shelters, adult recovery centers, nursing homes and seniors' day centres. Mimi named her organization Bread & Roses after reading James Oppenheim's poem, "Bread & Roses," written in honor of the women garment workers on strike in 1912 in Lawrence, Massachusetts. The strike became known as the "Bread & Roses Strike" because of its slogan – "Give us bread, but give us roses, too." Mimi set the poem to music and it became the title song of Judy Collins' 1976 album, "Bread and Roses."
Bread and Roses
Judy Collins - Bread and Roses - Elektra
The concert by Mimi Fariña with Lowell Levinger -- recorded February 2nd, 1988 by Michael Kleff for German radio -- is available on a CD called "Live in Germany: To Benefit Bread & Roses." It is available from the Bread & Roses website. https://www.breadandroses.org/post/benefit-cd-for-bread-roses-presents-features-mimi-fari%C3%B1a-with-lowell-levinger
Best of Friends
Mimi Fariña with Lowell Levinger - Live in Germany: To Benefit Bread & Roses - Dogfish Music
Children of Darkness
Mimi Fariña with Lowell Levinger - Live in Germany: To Benefit Bread & Roses - Dogfish Music
I Can See Clearly Now
Mimi Fariña with Lowell Levinger - Live in Germany: To Benefit Bread & Roses - Dogfish Music
Dandelion
Mimi Fariña with Lowell Levinger - Live in Germany: To Benefit Bread & Roses - Dogfish Music
Old Woman
Mimi Fariña with Lowell Levinger - Live in Germany: To Benefit Bread & Roses - Dogfish Music
Dog Blue
Mimi & Richard Fariña - Celebrations for a Grey Day - Vanguard
Mr. Rudy
Mimi Fariña with Lowell Levinger - Live in Germany: To Benefit Bread & Roses - Dogfish Music
Come Get Me Shoes
Mimi Fariña with Lowell Levinger - Live in Germany: To Benefit Bread & Roses - Dogfish Music
Less Than the Song
Mimi Fariña with Lowell Levinger - Live in Germany: To Benefit Bread & Roses - Dogfish Music
Deep Feelings
Mimi Fariña with Lowell Levinger - Live in Germany: To Benefit Bread & Roses - Dogfish Music
Sad Cities
Mimi Fariña with Lowell Levinger - Live in Germany: To Benefit Bread & Roses - Dogfish Music
Mama Tried
Mimi Fariña with Lowell Levinger - Live in Germany: To Benefit Bread & Roses - Dogfish Music
If My Eyes Were Blind
Mimi Fariña with Lowell Levinger - Live in Germany: To Benefit Bread & Roses - Dogfish Music
Big Party
Mimi Fariña with Lowell Levinger - Live in Germany: To Benefit Bread & Roses - Dogfish Music
Daniel Prayed
Mimi Fariña with Lowell Levinger - Live in Germany: To Benefit Bread & Roses - Dogfish Music
Defying Gravity
Mimi Fariña with Lowell Levinger - Live in Germany: To Benefit Bread & Roses - Dogfish Music

Sweet Sir Galahad
Joan Baez - Live at Woodstock - Craft
The Quiet Joys of Brotherhood
Pete Seeger - God Bless the Grass - Columbia/Legacy
Birmingham Sunday
Rhiannon Giddens - Freedom Highway - Nonesuch
Reflections in a Crystal Wind
Caroline Doctorow - Another Country: The Songs of Mimi and Richard Fariña - Narrow Lane
fragment of The Stranger Song
Leonard Cohen - Songs of Leonard Cohen - Columbia/Legacy