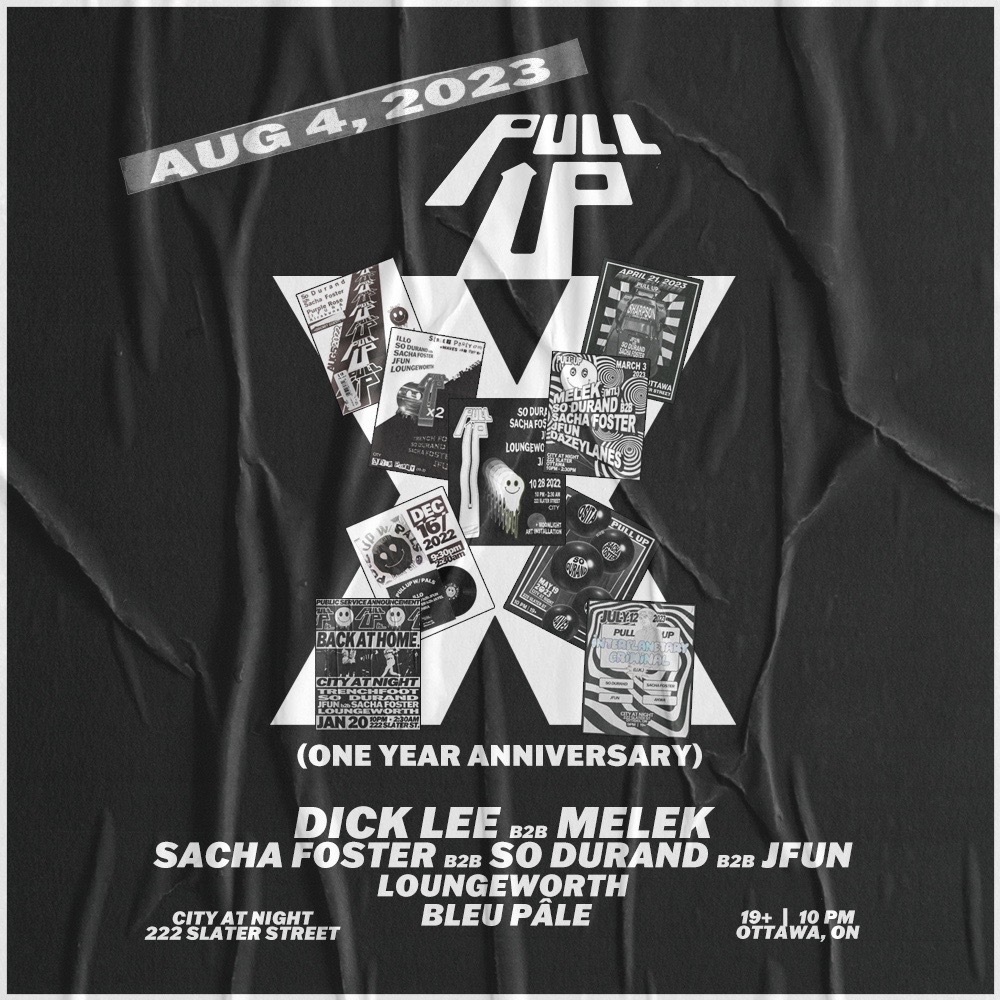 Mapped Out Radio
Friday August 4th, 2023 with Jordan aka JFUN
Pull Up Ottawa Anniversary Take-Over featuring mixes by JFUN + Dick Lee.
Today we celebrate 1 year of Pull Up Ottawa! What is Pull Up Ottawa? It's an event series hosted here in the capital that focuses on genres such as: UK Garage, Breaks, Jungle, Rave Anthems, House and so much more.
Join us Tonight (Aug 4th) @ City at Night for the Pull Up Ottawa One Year Anniversary!
Pull Up is... UK Garage, Jungle, Breaks, Rave Anthems, House, & More

The event will showcase featured guests: Dick Lee & Melek from the Musik Me Luv Crew who are championing the SoundSystem Culture in Montreal and we're excited for them to bring their energy to Pull Up! For those of you who were lucky enough to catch Melek during our March edition know this will be one for the books!

Resident selectors: Sacha Foster, So Durand and JFUN are doing a B3B set for the first time ever. Also on the bill includes Ottawa based selectors Loungeworth and Bleu Pâle who are both no strangers to performing at Pull Up.

This is all going down on Friday, Aug 4th at City at Night! We highly recommend getting your tickets in advance to ensure that you can be part of this special celebration!

Pull Up Crew, are you ready?

Tickets + Info available via: https://www.eventbrite.ca/e/pull-up-x-one-year-anniversary-tickets-679347987117?aff=oddtdtcreator
The first mix is brought to you by Pull Up Ottawa co-founder JFUN. This mix was recorded on July 12 as a warm up set for Interplanetary Criminal. It features UKG, Breaks, House and more!
On part 2 of Mapped Out Radio, we're in the mx with Dick Lee (MTL).

Dick Lee is a passionate and determined DJ. He's well recognized amongst his peers for having an open-minded approach to music, as sets filled with drum&bass, Half, jungle, 140 bass, Hip-Hop trap, Reggae, Techno, Garage and Footwork tell us. He is also a co-founder of Musik Me Luv, a collective that has already made a lot of noise in the city of Montreal and beyond.

At 28 years of age, he has already opened for artists such as Coco Bryce, Visages, Egoless, Kahn, J:Kenzo, J.Sparrow, Kaiju, Vivek, Dj Madd, Bakey, ThePrototypes, Blade Runner, Dj ss and many more.

His biggest accomplishment to date has been playing at the famous Outlook Festival in Croatia. This past year, Dick Lee has performed in various events, including the evergrowing Piknic Electronic. His crew, Musik Me Luv, have recently joined forces and had their own radio show on Sub FM . Last but not least, they are also collaborating with Outlook festival, the biggest bass music festival in the world, for a launch party in Montreal. Otherwise you have probably seen him play at venues such as Videotron Center, Newspeak, Le Belmont, Le Cercle, as well as many free parties, all night raves and the well known and loved Future Forest, Valhalla Sound Circus, Île SoniQ, Good Vibes festival and many more. He is supported by favorite organizations such as Montreal Bassix, Big Tooth, Conkrete MTL, Musik Me Luv and more.

Don't be fooled by his young look, this guy is sure to get your body moving to the music with his deep and groovy sounds.

Connect with Dick Lee via
https://soundcloud.com/mmldicklee
https://www.instagram.com/levraidicklee/