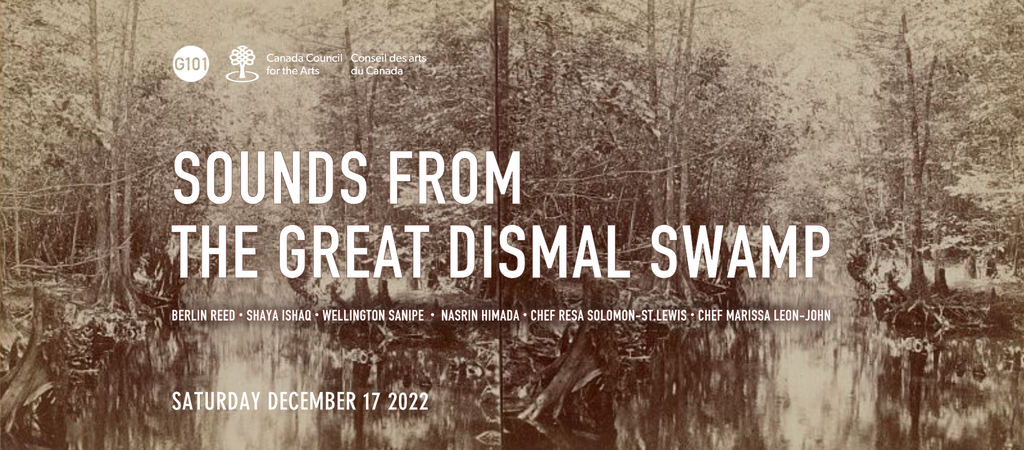 Hexon Bogon
Friday December 16th, 2022 with Adriana Ciccone
"Sounds from the Great Dismal Swamp"
In this episode, you'll hear an interview I had with Gastro-Curator, Berlin Reed and Gallery 101's Director/Curator, Laura Margita where we talk about the experimental performance and collaborative residency featuring six artists, chefs and curators titled, 'Sounds From The Great Dismal Swamp'. It's happening this week and on Saturday, this multi-sensory experimentation of food and space will be open to the public! You'll also hear music by Wellington Sanipe, Sunnsetter, Sula Bassana, King Gizzard & the Lizard Wizard, Ioanna Gika, maud the moth, CB3, Mares of Thrace, Converge & Chelsea Wolfe, and Skunk Anansie.
Interview with Berline Reed and Laura Margita! (about 20 minutes)
To reserve your spot for Saturday's portion of the exhibit, go here: https://www.eventbrite.ca/e/sounds-from-the-great-dismal-swamp-tickets-471426668857
For more information on 'Sounds from the Great Dismal Swamp', go here: https://g101.ca/exhibits/sounds-great-dismal-swamp
Water Issue
Wellington Sanipe - Water Issue - self-released

Float in Circles
Sunnsetter - Float in Circles - Paper Bag Records


Real Life
Sula Bassana - Nostalgia - Sulatron Records

Hell's Itch
King Gizzard & the Lizard Wizard - Ice, Death, Planets, Lungs, Mushrooms and Lava - self-released

Roseate
Ioanna Gika - Roseate - Sargent House
Empires (Live at Brudenell Piano Sessions)
maud the moth - Brudenell Piano Sessions - self-released
Through Space and Time
CB3 - Exploration - Majestic Mountain Records
Mortal Quarry
Mares of Thrace - The Exile - Sonic Unyon

Bloodmoon
Converge & Chelsea Wolfe - Bloodmoon: I - Epitaph
Our Summer Kills The Sun
Skunk Anansie - Black Traffic - 100% Records