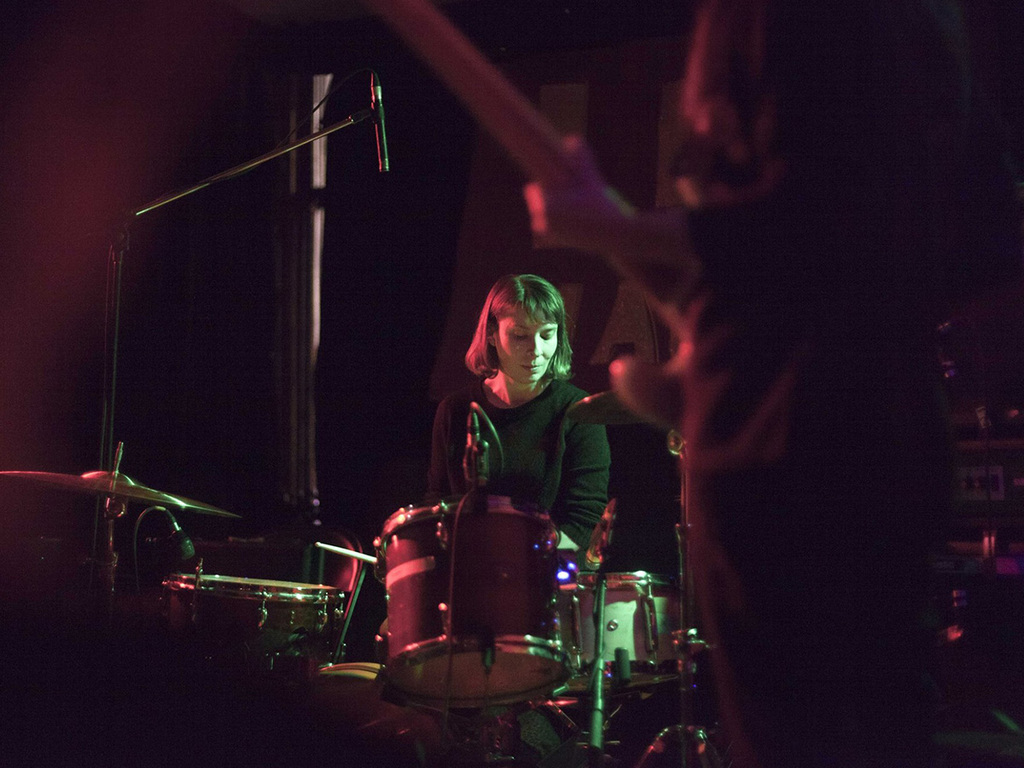 Hexon Bogon
Friday June 11th, 2021 with Adriana Ciccone
Dedicated to Joni Sadler
The first hour of the show is dedicated to Joni Sadler. Joni was the drummer for Montreal-based band Lungbutter, the English Music Director of CHUO 89.1 FM, co-managed CKUT 90.3 FM at McGill University (from 2012 to 2017), POP Montreal's Symposium Director (2017 and 2018), and Director of Communications at Constellation Records (2017 to 2021). Those are just a few things she did. She was involved in so much more. Although our contact was only through emails, her dedication to the scene and her kind heart shined through and made a lasting impression.
Photo of Joni was taken from jonisadler.com
Vile
Lungbutter - Honey - Constellation Records

Honey
Lungbutter - Honey - Constellation Records

Solar
Lungbutter - Honey - Constellation Records

Flat White
Lungbutter - Honey - Constellation Records

Bravo
Lungbutter - Honey - Constellation Records

Henry Darger
Lungbutter - Honey - Constellation Records

Intrinsic
Lungbutter - Honey - Constellation Records

Maryland
Lungbutter - Honey - Constellation Records

Depanneur Sun
Lungbutter - Honey - Constellation Records

Curtain
Lungbutter - Honey - Constellation Records

Veneer
Lungbutter - Honey - Constellation Records

Henday
Nennen - Two Mountains - self-released

4.5
Nennen - Two Mountains - self-released

Link to Joni's thesis, "Challenging Expectations: Perceptions of Canadian Music and the Localized Practices of Experimental Artists" : https://curve.carleton.ca/system/files/etd/dcf77a90-7c0b-4872-9295-691e23ac2ad4/etd_pdf/6ec180246c4cc6ae20d02bd49cd55a67/sadler-challengingexpectationsperceptionsofcanadian.pdf
Link to the dedication written by Matana Roberts: https://www.matanaroberts.com/coda/log/
RIP Joni
All Is Written
Matana Roberts - Coin Coin Chapter Three: river run thee - Constellation Records
Change
Anika - Change - Sacred Bones Records

Treetop
Rædsel - Menetekel - Fluttery Records

I LIE HERE BURIED WITH MY RINGS AND MY DRESSES​(​SINGLE)
Backxwash - I LIE HERE BURIED WITH MY RINGS AND MY DRESSES​(​SINGLE) - self-released


En Masse ft. MC Prochain
AMECANE - Voisins - self-released


Under The Tree
MRBD - A Intergalactic Christmas - EP - self-released


Nostalgia
MONO - For My Parents - Temporary Residence Ltd