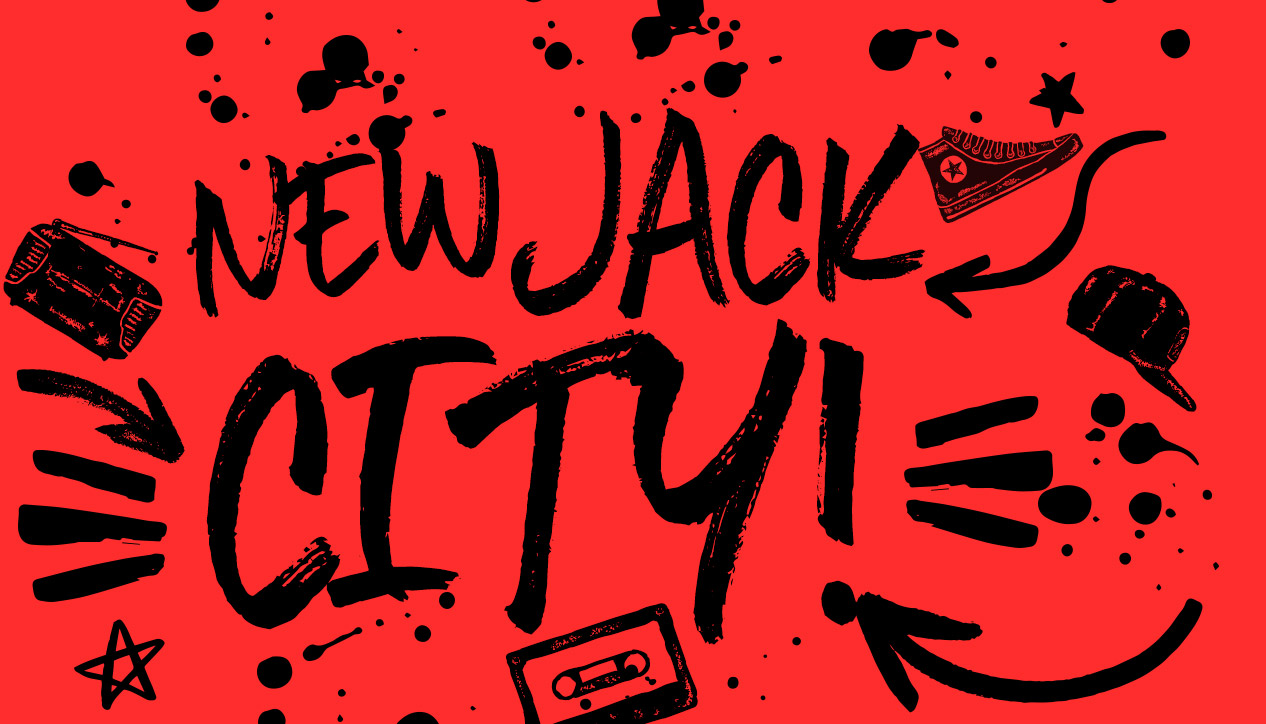 New Jack City
Sunday March 8th, 2020 with Livin' Large
Rhythm Nation
Janet Jackson - Janet Jackson's Rhythm Nation 1814
RHYTHM NATION
After scoring big hits with Control, Janet Jackson finally differentiated herself from her brother Michael. For her fourth album the record company wanted another Control, but Janet was saying no. Instead she took her music to a socially conscious level, adding themes about gun violence and drugs throughout the whole album . And this song sticks out as a defining new jack swing cut adding industrial sounds to the already identifiable beat. Just goes to show that Janet, Jimmy Jam and Terry Lewis were already willing to reinvent the style they helped create. This was probably Lemonade before Beyoncé thought of it. What followed was an 18 minute short film that aired on MTV, all shot in its trademark military black and white, and gave the world a taste of a more serious, conscious Janet Jackson.
I Wanna Sex You Up
Color Me Badd - New Jack City: Music From The Motion Picture
I WANNA SEX YOU UP
Songwriter Elliott Straite was asked to contribute a song to the upcoming movie NEW JACK CITY, and he was working Color Me Badd at the time. At the time the group was a little bit worried about singing a raunchy, sexy song but they also saw it as an opportunity to finally score a big hit and went with it. It ended up becoming a huge song, and is now considered one of the most recognizable New Jack Swing songs of the 90s.
Money Can't Buy You Love
Ralph Tresvant - Mo' Money Soundtrack
Orange (Too Good To Be True)
Vadell Gabriel Feat. Moscow Apartment - Lover's Pain


U Can't Touch This
Hammer - Please Hammer Don't Hurt'Em
Walk Out
The Letter Z Feat. Supreme Swiss - Walk Out (Single)

Keep On Movin'
Soul II Soul Feat. Caron Wheeler - Keep On Movin'
KEEP ON MOVIN'
Soul II Soul were British, and they broke the barriers with hits like this next one. They added an old soul vibe to their music, had some house in their music, and the song is notable for its expansion across nation-states. It was produced in England by a group with Caribbean descent. A lot of British music journalists consider this song and the group ground-breaking because of it, and it made an impact
Rockin' Over The Beat (Remix)
Technotronic Feat. Ya Kid K - Teenage Mutant Ninja Turtles III Soundtrack
For The Cool In You
Babyface - For The Cool In You
FOR THE COOL IN YOU
Kenneth "Babyface" Edmonds was one of, if not THE foremost R&B producer. He was writing hits for the likes of Toni Braxton, TLC, After 7, Mariah Carey, and had a hand in big New Jack Swing hits by Bobby Brown, Sheena Easton and others to name a few. So, at the peak of R&B gold Babyface released this smooth, sultry New Jack Swing song on his album of the same name. It ended up going multi-platinum
Love Sign
Nona Gaye and Prince - 1-800-New-Funk
LOVE SIGN
One of the most 90's inspired Prince songs, it was only available on a mail order compilation album called 1-800-NEWFUNK, which was also the name of the phone number fans dialed to order it. Hasn't been done since for an album, especially from a big superstar like Prince. To make it more special he recorded this sing with his then-girlfriend, Marvin Gaye's daughter, Nona Gaye and the video was directed by Ice Cube
Make It Alright
Ivason Black - Make It Alright (Single)

Rush Rush
Paula Abdul - Spellbound
RUSH RUSH
After having the biggest selling debut ever by a female artist Paula Abdul started work on her second album SPELLBOUND, and this time she was keen on recording a song that showed a different side to herself as an artist after being seen strictly as a dance artist. Virgin wanted another dance song as the first single, but instead Paula and her producers wanted this ballad. It paid off and shot to number one, and had a very memorable video which was a verbatim take-off on REBEL WITHOUT A CAUSE, with a young actor named Keanu Reeves playing her love interest
Pieces Of My Love
Guy - Guy
PIECES OF MY LOVE
Guy became a rising R&B act with the talent of Aaron Hall and the brains of Teddy Riley, who arguably went on to become the king of new jack swing. He was producing hits by Michael Jackson, Blackstreet, Bobby Brown and Mary J. Blige to name a few. He's probably the reason for New Jack Swing becoming what it became, and Guy was the first sign of what was to come in the next few years. This is a deep cut from the multi-platinum debut from Guy
Rendez-Vous
Zhané - Saturday Night