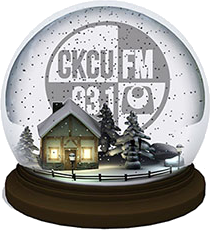 Midnight in a 2023 World
Sunday January 1st, 2023 with Imp-Yam Cataracts
Let's Bring The 2023.... 3-2-1 HAPPY NEW YEAR!
CKCU Program Director helps you ring in the New Year.... Speech speech speech...okay fine then: Good evening turned good morning everyone! I'm Dave Aardvark, CKCU's Program Director. Happy New Year and all the best to each and every one of you that are tuned in this evening to start off 2023 right! I know you don't hear from me a lot on the RADIO these days, but it's not like I'm not around trust me haha... It's been a crazy year, and I have to say I wouldn't have survived another without the incredible dedication of all the CKCU volunteer hosts that bring us great radio on the regular! Also, I need to acknowledge the incredible support we get from our listeners that have generously donated once again to the Annual Funding Drive to the tune of $122,567.00 and counting. Without Community support we just simply wouldn't be here, so I am very grateful that we can keep this dream alive, this breath of fresh air on the airwaves, this grassroots, diverse vehicle for all that is worthwhile in the region and beyond..... Anyways, time to shut up and get back to the party, but I thought that seeing as you are tuned you'd let me provide your mix, your background for the next couple of hours, and a crazy mix it is, cause that's what i make....so I hope you'll keep it locked and cranked up. Again all the best for a prosperous New Year, meilleur Voeux pour 2023 tout le monde et a bientot!
Bandito (excerpt/ bed)
The Champs -
Junk
Brion Gysin -
Lose This Skin
Tymon Dogg w/ The Clash -
Superball
Helium -
Telephones
Mo Kenney -

Crumblin' Walls
Charlene Queen XO -


The Streetbeater
Quincy Jones -
Get Off The Radio
Lancelot Layne -
Talk About The Good Times
Jerry Reed -
Wanted
The Jimmy Tri-Tone Band -

Et Moi
Jacques Dutronc -
Leave It Alone
Hellacopters -
Ring Of Fire
Social Distortion -
In Flux (Alternative interlude _93 version)
DJ Shadow -
==[additional selections from 1 to 2 AM exclusively on FM & stream only! howz that for gettin' it backwards?]==