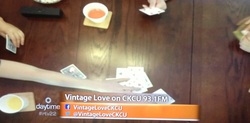 After Hours
Sunday January 31st, 2016 with O'shea Adagio
The Gambler
Thank you for choosing After Hours here on CKCU The Mighty 93.1FM Hopefully you enjoyed the show. Thank you to all for your requests, comments etc. It always astounds me that so many people are up during these late hours... but of course I love it and love it even more that you are tuning into this show with so many options for other things. So thank you!!! Please enjoy the rest of your week and hopefully we can chill again next Sunday morning starting at 12:01AM exclusively on CKCU. My name is O'shea Adagio and I wish you the best until then. :-) OA VL - After Hours Live - Sundays 12 - 2am
www.ckcufm.com
I Belong To You (@ 11:00)
Lenny Kravitz - -
These Dreams (@ 15:20)
Heart - -
Water Runs Dry (@ 18:59)
Boys II Men - -
All Cried Out (@ 22:55)
Lisa Lisa & Cult Jam with Full Force - -
Spilling over from last week and Alexa's requests for Prince. I thought I would throw another one into tonights show in case she was listening and lo and behold... she was. :-)
The Beautiful Ones (@ 27:33)
Prince - -
Foolish (Instrumental) (@ 33:28)
Ashanti - -
How It Feels To Fly (@ 37:31)
Alicia Keys - -
No More Drama (@ 42:15)
Mary J. Blige - -
You Are My Heaven (@ 48:05)
Mary Jane Girls - -
He Loves Me (Lyzel in E Flat) Movements I, II, & III) (@ 51:37)
Jill Scott - -
Never Let You Down (@ 62:39)
Maze Featuring Frankie Beverly - -
Be Sure (@ 66:30)
Teddy Pendergrass - -
Another request from the IM. This one for some Angie Stone. Rewound by request... nuff respect out to Papa Richie. This is "My Sunshine" for you.
My Sunshine (@ 72:04)
Angie Stone - -
How Do I Live? (@ 76:25)
LeAnn Rimes - -
Twilight Time (@ 80:54)
The Platters - -
Groovin' (@ 83:48)
Marvin Gaye - -
Betcha By Golly, Wow (Live) (@ 86:33)
The Stylistics - -
Requested from the IM, we venture back into the soulful sounds of the one and only Mary J. Blige. Thank you for your request and thank you for tuning into AH tonight.
Be Without You (@ 91:53)
Mary J.Blige - -
Come And Talk To Me (@ 96:25)
Jodeci - -
Love Wont Let Me Wait (@ 101:09)
Luther Vandross - -
Nice & Slow (@ 108:24)
Usher - -
Do What You Do (@ 112:15)
Jermaine Jackson - -
Love Sick (@ 118:00)
Gang Starr - -