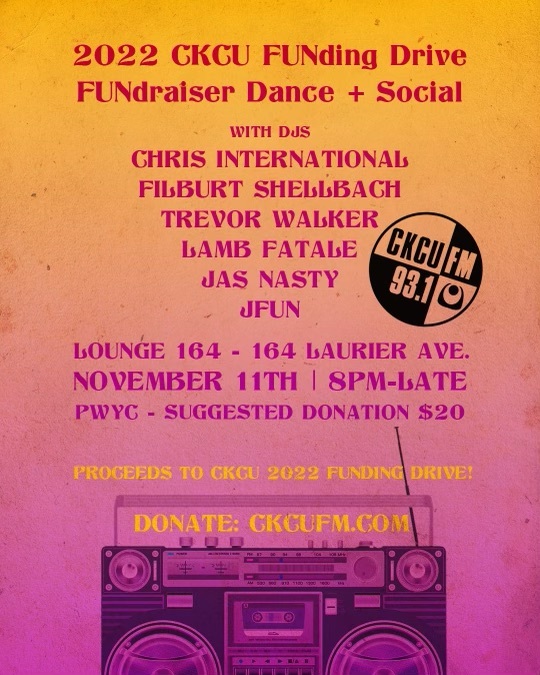 Turn Up The Radio
Monday November 7th, 2022 with Chris Ikonomopoulos
Funding Drive week 2!
Welcome to the second of two Funding Drive shows for this program. Huge thanks to donors Ibemeemee, t_al_z, Jas Nasty, Bruce Walton and even an anonymous donor for showing support! If you have not yet, please follow the donate link to support independent radio. ALSO, please join Trevor Walker, Jas Nasty, Lamb Fatale, Filburt Shellbach, JFun and myself this Friday night at Lounge 164 [164 Laurier Ave], from 8PM onwards for a CKCU fundraiser. We're hauling some of our favourite music to this new lounge for an out of the radio, real life evening of grooves. Cover is a suggested donation of $20 but as it's pay what you can, any amount is accepted.
My Spine Is The Bassline
Shriekback - 12" - 1983 - Y Records
Shake Your Molecules Dub
Soma Holiday - 12" - 1984 - Cachalot Records / 2014 - Minimal Wave
Lost Years
The Soft Moon - Zeros - 2012 - Captured Tracks
Alghafiat
Amanar - Music From Saharan Cellphones - 2011 - Sahel Sounds
The Peruvian
DJ Format & The Simonsound - 7" - 2019 - [independent release]
Samba Street
Barry Morgan & Ray Cooper - The Cream Of The KPM Music Green Label Sessions - 1979 - KPM / 2000 - STRUT
Caballo
Yambu - 7" - 1975 - Montuno
Heavy Soul
Billy Hawks - Heavy Soul! - 1968 - Prestige
Lizard Head
Dr. Das - DOROHEDORO [soundtrack] - 2016 - MHz