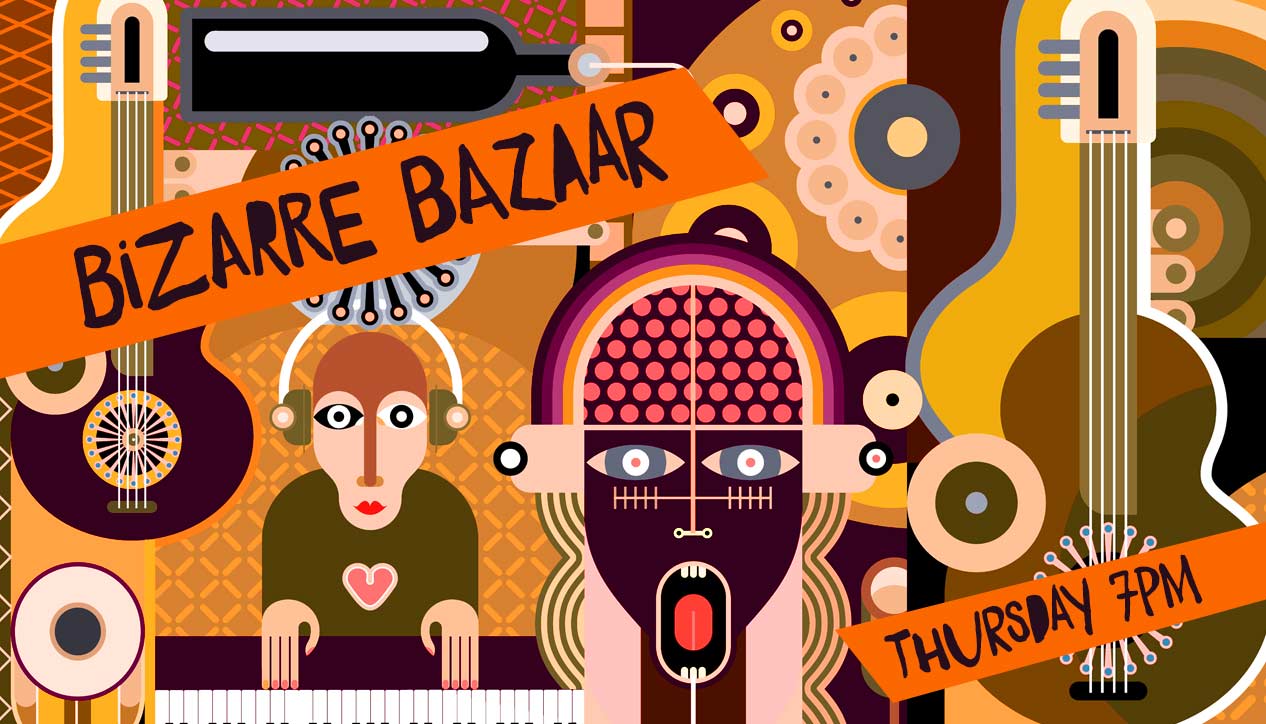 Bizarre Bazaar
Thursday June 18th, 2020 with Lefty!
Tune in for 90 minutes of "punk"!
Tune in for 90 minutes of "punk"!
Gnarcissist
Mutoid Man - Helium Head
Right On, Frankenstein
Death From Above 1979 - The Physical World

CK Killer
Amen - We Have Come For Your Parents
Never Wake Up
Sum 41 - All Killer No Filler

24h Hell
The Hellacopters - Supershitty To The Max!
Snake Eyes
Nashville Pussy - Let Them Eat Pussy
I Don't Want To Know
The Strypes - Snapshot
Palm Tree Sway
Billie Dre & The Poor Boys - Garlic Fingers

Jesus Died So We Could Ride
The Hip Priests - Black Denim Blitz
New Orleans Is Sinking
Pezz - Watoosh!

Introduce The Metric System In Time
The Hives - Veni, Vidi, Vicious
Terminal Horse
Indian Handcrafts - Civil Disobedience For Losers

She's Getting Sick of Me
Nobodys - Hopelessly Devoted To You
Painted Parade
Red Fang - Murder The Mountains
Cucaracha In Leather
The Brains - The Monster Within

Distance
Ignite - Punk Bites
Goodbye
Supersuckers - Motherfuckers Be Trippin
Black Hole
Cross Dog - s/t

Ketchup Soup
Teen Idols - Short Music for Short People
Heavy Metal Shuffle
Gob - FUBAR The Album

Dark Days
Doghouse Rose - Single

Bottom
Refused - This Just Might Be The Truth
Kicked In The Teeth
Zeke - Kicked In The Teeth
You Lose, I Win
Speedealer - Burned Alive
Leeches
Corrosion of Conformity - s/t
Dancing Through Sunday
A.F.I. - Sing The Sorrow
Middle Finger Response
Propaghandi - How To Clean Everything

Ready... Aim... Cheese!
Hot Snake Handlers - The Ongoing Adventures of Hot Snake Handlers

Got The Numbers
Anti-Flag - A New Kind of Army
Smash It Up
Punchbuggy - I've Never Been To Ottawa

Distilla Truant
The Distillers - s/t
Something's Gonna Die Tonight
Hardcore Logo - Single

Sounds Good To Me
The Pimps - To A Cool Person, Stay That Way!
Raum Der Zeit
Wizo - Survival of the Fattest
Blue Eye Commotion
Black Pistol Fire - Hush or Howl

Keep Dreaming
The Creepshow - They All Fall Down

Second Skin
The Gits - Frenching The Bully
Wayfaring Stranger
The Schomberg - Gospel

No Holds Barred
Valient Thorr - Immortalizer
My Sweet Dog
Hi-Standard - Angry Fist