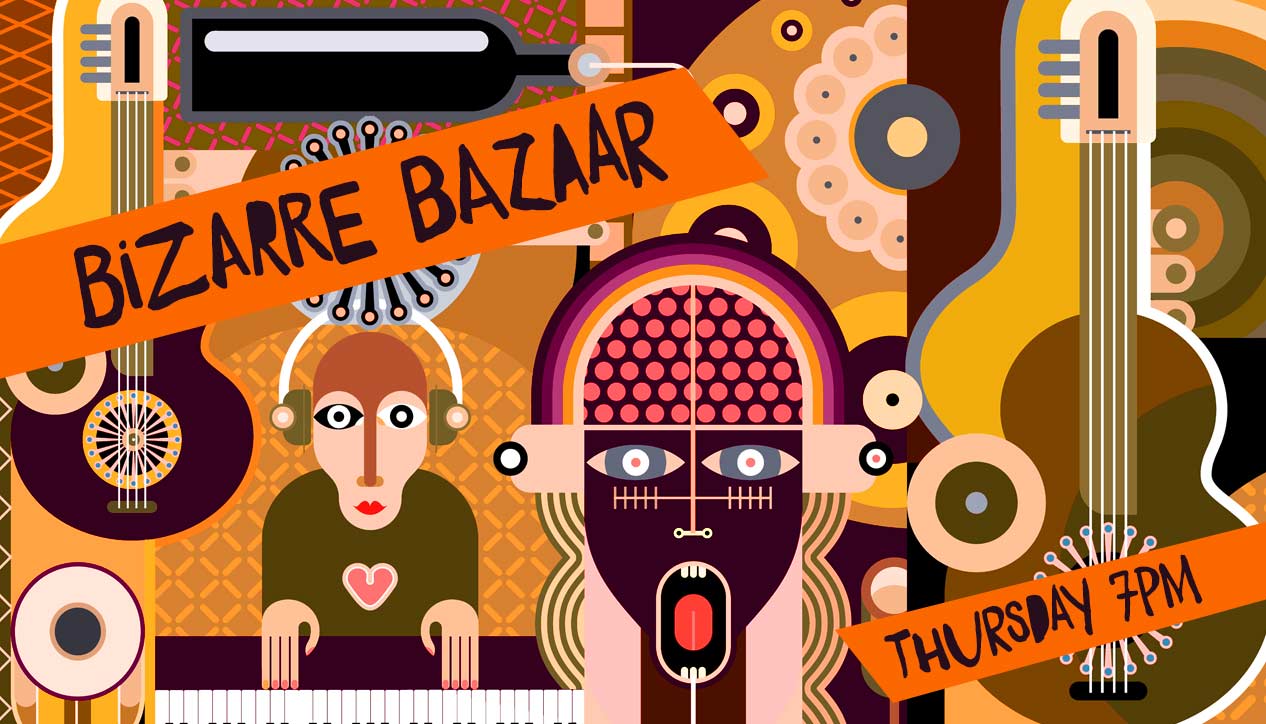 Bizarre Bazaar
Thursday April 18th, 2019 with Regis
Review of Roadburn
Tonight will feature a review of my first ever attendance of the Roadburn music festival. This review will focus on sharing with you music from the bands I had the privilege of seeing. I hope this playlist does them justice.
Primitive
The 613s - Single release - Independent (2013)

Black tar prophecies
Grails - Black tar prophecies vol 1,2,3 & 4 - 2006 important records
Grails is an American instrumental experimental rock band. Based in Portland, Oregon, the group have released seven studio albums, on labels including Southern and Temporary Residence, and have toured across North America and Europe.
(This text was taken from wikipedia. Thanks cut and paste !)
Fim do Mundo
Rakta - Falha Comum - La Vida es Un Mus records (2019)

Hailing from SÃo Paulo (Brasil). this band dabbles in neo-psych sounds by way of punk-post roots enmeshed with synthesizers.
Hungry is the ghost
Marissa Nadler - Strangers - Sacred Bones records (2016)
Marissa Nadler is an American musician that signs in a mezza-soprano. Active since 2000, she is currently signed to Sacred Bones Records and Bella Union, and released her seventh full-length studio album, Strangers, in May 2016.As a singer-songwriter, her music defies simple classification. Her work "is rooted in old-school country and folk but brings in elements of experimental and black metal". Sometimes the term "dream folk" has been invoked to describe her work.
(This text was taken from wikipedia. Thanks cut and paste !)
For I am the Light
Lingua Ignota - All bitches die - Self release (2019)
Kristin Hayter (aka Lingua Ignota) creates a live show which has been unanimously described as an exorcism. Her mix of choral, black metal, industrial, classical and doom metal makes for an indescribable genera. She is a survivor of both a physically abusive relationship and anorexia, so she uses her voice and music as an art form to express rage, vengeance and fearlessness. Her latest album, "All Bitches Die" (Profound Lore Records) takes you on a spiritual journey to hell and you might feel like you are in the depths of an old Fulci movie.
(This text was taken from the cvlt nation website. Thanks cut and paste !)
The hammer
Thou - Inconsolable - Robotic empire (2018)
Thou is an American sludge metal band formed in Baton Rouge, Louisiana in 2005. Thou's style has been labeled as "experimental doom", stoner metal and sludge metal. On the band's style, Allmusic critic Gregory Heaney stated that "the band's sound blends the shuddering heaviness of doom with the oppressive atmospherics of black metal, giving the band a monolithic sound that feels, at times, inescapable."
Cropsey
Have a nice life - The Unnatural World - The Unnatural World (2014)
Holy Mountain
Sleep - Holy Mountain - Earache records (1992)
Thorn In The Lion's Paw
Sumac - The deal - x
Rock Ist Krieg
Seven that spells - The Death And Resurrection Of Krautrock: AUM - x
Hamrer Hippyer
Heilung - LIFA - x