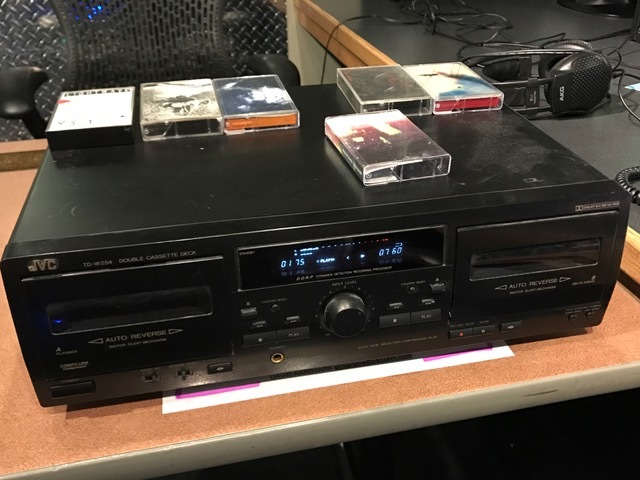 Electronic Meditation
Thursday June 15th, 2017 with Sean McFee
The Magnetic Tape Countdown
Tonight it all comes from a cassette.
Élément Kuuda, aka Christian Richer. I played music from his debut (and I thought only) release La Prairie (2004) in October 2014 and December 2016. This year I discovered he has continued to release music, both on Bandcamp and in physical format on cassette. Subsequent releases have included Flight (2010), Flight 2 (2011), and Polargraph (2012). The music on these cassettes mixes ambient and electro-acoustic nicely.
Amber Wing
Élément Kuuda - Flight - Brise-Cul

Conic Sections
Élément Kuuda - Polargraph - Sacred Phrases

eff. dryland, aka François Landry, aka Balaam Galang, who I have played before on the show with one release, 1997's "We Ran Out to Uranus". Continuing (or I suppose beginning) the planetary theme, the eff. dryland release "noyer neptune" was a cassette-only release from 1990. Typical of most of the music tonight there is a lo-fi and DIY aesthetic at work which fits a lot of the experimental electronic scene from the 80s-90s.
yoner
eff. dryland - noyer neptune

orney
eff. dryland - noyer neptune

ryneo
eff. dryland - noyer neptune

Lightwave is a French duo (very early on a trio) who produced a number of experimental and ambient works, known perhaps most for 1990's Nachtmusik. Their earlier material comprises several cassette-only releases in the late 80s. One of these, Ici & Maintenant, is perfect to play tonight, as it's a live recording from 28 May 1998 on the Ici et Maintenant radio program in France, with the frequency 93.1 FM :). On this occasion Christian Whittman and Christoph Harbonnier play all sorts of synthesizers by Moog, ARP, Roland, Oberheim, Korg, and more. They are joined by Bruno Heuzé on Roland JX-3P.
Untitled (side B)
Lightwave - Ici & Maintenant - Auricle / Ultima Thule
Alien Planetscapes was an American electronic/space group who (self-)released over a hundred cassettes, and a single CD release. Led by Doug Walker, on this cassette from 1987 he is joined by Carl Howard on synths and sequencer, and by Marlon Cherry on guitar on side A. Walker plays synths and sequencers, organs, electronic flute, and glissando guitar.
Galaxy 1987A
Alien Planetscapes - Everybody's Mad at Amerikkka