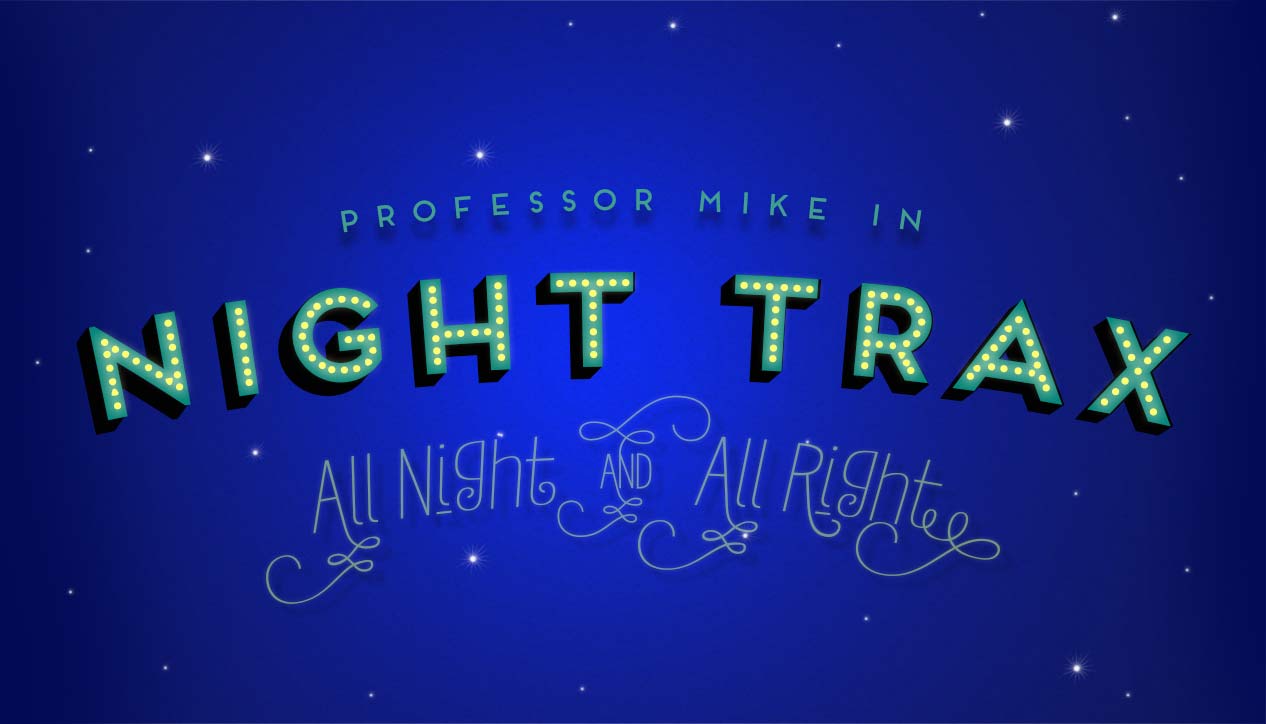 Night Trax
Monday July 17th, 2017 with Professor Mike
Episode 179: Everyone's A Winner - Don't Stop Believing
Very big good morning everyone and I start off with a huge announcement. As you all know, I was attending the Special Olympics Ontario 2017 Summer Provincial Games in the Peel Region, Mississauga - Brampton for 4 days and was only expected to get at least one bronze medal but I exceeded my expectations by winning 2 gold in shot put and standing long jump and 1 silver in the 100 meter run and the response has been huge and very overwhelming and yes I did have tears of joy and thinking my late parents would be very pleased and I thank you my listeners, family, friends, many Facebook friends and to everyone here at CKCU FM for your support over the past few days, months and the past year while I trained hard to go to provincials and hoping for bigger and better things in the near future. Thanks Again Everyone.
Smallcreep's Day: I) Between The Tick And The Tock II) Working In Line III) AfterHours IV) Cats And Rats (In This Neighborhood) V) Smallcreep Alone VI) Out Into The Daylight VII) At The End Of The Day
Mike Rutherford - Smallcreep's Day (1980) - Passport
All Night Long
Starz - Violation (1977) - Capitol
Seventh Heaven
FM - Surveillence (1979) - Passport

Don't Stop Believin'
Journey - Escape (1981) - Columbia
(So You) Wanna Be A Star
Chilliwack - Wanna Be A Star (1980) - Solid Gold

First Time For Everything
Coney Hatch - Outta Hand (1983) - Anthem

Oowatanite
April Wine - Stand Back (1975) - Aquarius

Those Shoes
Eagles - The Long Run (1980) - Asylum
Got To Get You Into My Life
The Beatles - Revolver (1966) - Parlophone
In The Light
Led Zeppelin - Physical Graffiti 2LP (1975) - Swan Song
Cradle Of Love
Billy Idol - 7" (1990) - Chrysalis
Towering Inferno
SCTV - Youtube (1980)
Two-Time Dad Advice
Chris Rock - Youtube (2015)
Just A Smile
Pilot - 7" (1975) - EMI
Peace Of Mind
Murray Head - 7" (1982) - A&M
High On Emotion
Chris De Burgh - 7" (1984) - A&M
It Never Rains In Southern California
Albert Hammond - 7" (1972) - Mums/Columbia
Some Kind Of Wonderful
Grand Funk Railroad - 7" (1974) - Capitol
Put A Little Love In Your Heart
Jackie De Shannon - 7" (1969) - Imperial
Oui Je T'Aime (Baby Lover)
Jackie Thomas - 7" (1978) - Gem

Sasha
Patsy Gallant - 7" (1981) - Trans Canada

Doing The Best You Can
Wednesday - 7" (1976) - Skyline

Sayin' Goodbye
Bobby Vee - 7" (1975) - Shady Brook
Still The Same
Bob Seger - 7" (1978) - Capitol
Amour Amour
Salvatore Adamo - Voyage Jusaqu'a Toi (1976) - CBS
Ordinaire
Robert Charlebois - L'Histroire De Robert Charlebois 3LP (1975) - Gamma

Comme Si
Louise Portal - Portal Evadee (1983) - XII

Super, Super Lady
Boule Noire - Primitif (1981) - Polydor

Everyone 1's A Winner
Hot Chocolate - 12" (1978) - Infinity
This Time I Know Its For Real (Extended Remix)
Donna Summer - 12" (1989) - Atlantic
Knockin' Down Love
Goldie Alexander - 12" (1983) - CBS

Aimes-Tu La Vie Comme Moi
Boule Noire - Boule Noire (1976) - Magique

One Day
Touche - Touche (1979) - Magnum

Oh Pretty Lady
Trooper - Hot Shots (1979) - MCA

We All Need Love
Troiano - Fret Fever (1979) - Capitol

Surfin U.S.A.
The Beach Boys - Made In The U.S.A. 2LP (1986) - Capitol
Black Stations White Stations
Martha And The Muffins - Mystery Walk (1984) - Current

Love Is In The Air
John Paul Young - 7" (1978) - Scotti Brothers
Fightin'On the Side Of Love
T.P.H. Orchestra Feat. Wayne St. John - 7" (1978) - RCA

Hold Me Tighter In The Rain
Billy Griffin - 7" (1982) - Columbia
Touch Me In The Morning
Diana Ross - Everlasting Love 4LP (1989) - Warner Special Products
I Can't Tell You Why
Eagles - The Long Run (1980) - Asylum
Love Makes No Promises
Candi - 7" (1989) - IRS

Loving You Baby
Wednesday - 7" (1975) - Skyline

I Thought Of You Today
Randy Brown - 7" (1979) - Parachute
Kinky Love
Dianne Brooks - 7" (1976) - Reprise

Still Can't Over Loving You
Ray Parker Jr. - 7" (1983) - Arista
If You Leave Me Now
Chicago - 7" (1976) - Columbia
Easy Love
Dionne Warwick - 7" (1980) - Arista
You're Looking Like Love To Me
Peabo Bryson/Roberta Flack - 7" (1983) - Capitol