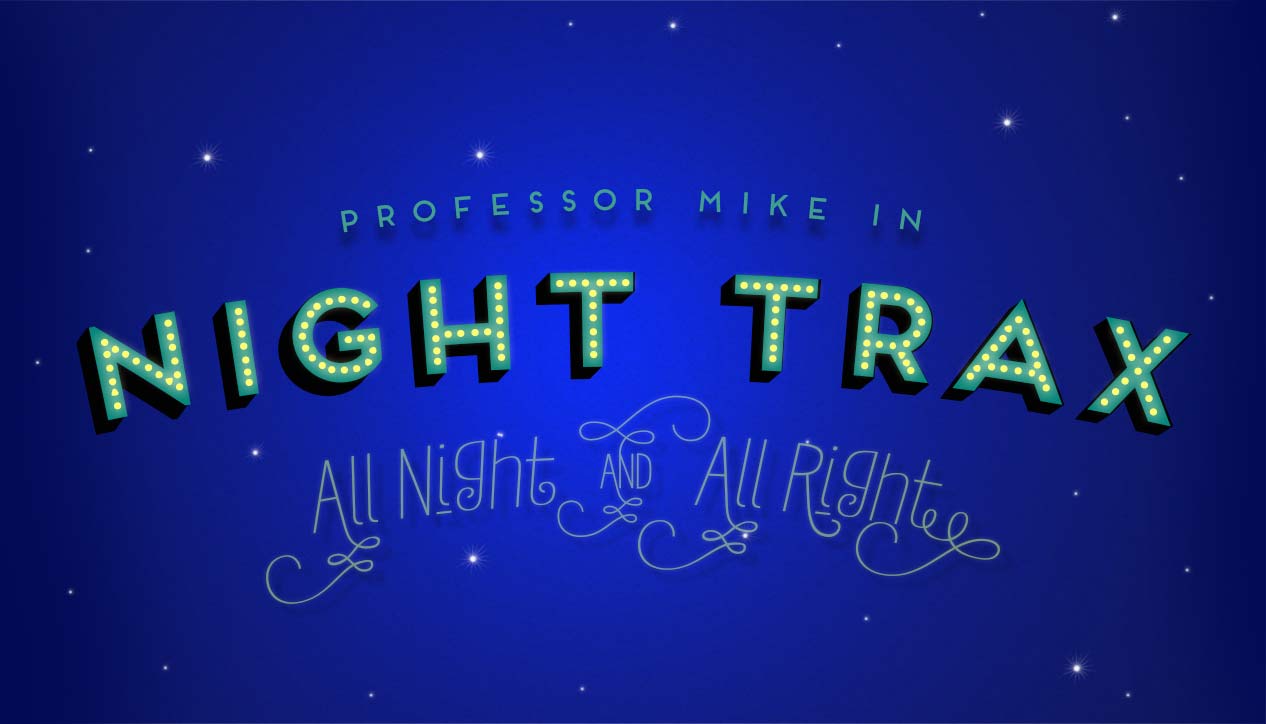 Night Trax
Monday March 20th, 2017 with Professor Mike
Episode 162: Celebration Day
Good Morning and Good Day Everyone and all set for more fun, music and even more fun with Night Trax. Just a quick program note that this will be an abbreviated edition, 4 hours due to the Persian New Years Special airing from 6:00-8:30am but don't despair, I will be back to my normal slot until 7:00am Monday, March 27th and this week's broadcast is dedicated in loving memory of a close friend, long time listener, fan and fellow member of the Orleans Alley Cats bowling squad Patrick Ketchum who suddenly passed away a few days ago after a brief illness and even though he's not with us on this earth but he's in a better place and with us in spirit and my thoughts and condolences go out to his family and many friends in this difficult time and he left me with a important message that my late parents always told me and that's always do what you do best and find my happy place and always go out with a happy face. Hope you enjoy this week's show and comments are always appreciated and very welcome.
Seven Stones
Genesis - Nursery Crime (1971) - Elektra
Funeral For A Friend/Love Lies Bleeding
Elton John - Goodbye Yellow Brick Road 2LP (1973) - MCA
Fearless
Pink Floyd - Meddle (1971) - Harvest
Tomorrow
Kiss - Unmasked (1980) - Casablanca
Lola
The Kinks - Greatest Hits (1971) - Marble Arch
Teacher
Jethro Tull - Living In The Past 2LP (1972) - Chrysalis
Need Your Love
Cheap Trick - Dream Police (1979) - Epic
Never Give Up
Blvd. - Boulevard (1988) - MCA

Cover Girl
Prism - All The Best From Prism (1979) - Capitol

Hope For Us Again
Gleneagle - Don't Fool Yourself (1981) - Apricot

Diamonds, Diamonds
Max Webster - Diamonds, Diamonds (1981) - Anthem

Celebration Day
Led Zeppelin - Led Zeppelin III (1970) - Atlantic
Leave It
Yes - 7" (1983) - Atco
Video Kids
Prototype - 7" (1983) - Mercury

Enough Is Enough
April Wine - 7" (1983) - Aquarius

How Will I Know
Michael Breen - 7" (1987) - Alert

Palace Guard
Rick Nelson & The Stone Canyon Band - Garden Party (1972) - Decca
Daredevil For Hire - Bullet Train Pain
Super Dave Osborne - Youtube (1992)

Bungee Jump Stunt
Super Dave Osborne - Youtube (1989)

One Step Over The Border Line
Peter Allen - 7" (1980) - A&M
Stop In The Name Of Love
The Hollies - 7" (1983) - Atlantic
Last Kiss
Wednesday - 7" (1974) - Apex

That's When You Know It's Over
Terry Sumsion - 7" (1984) - Savannah

Talking In Your Sleep
The Romantics - 7" (1983) - Nemperor
Giving It Up For Your Love
Delbert McClinton - 7" (1980) - MSS/Capitol
Devil Woman
Cliff Richard - 7" (1976) - The Red Rocket Company/MCA
Let Me Down Easy
Jim Glasser - 7" (1983) - Noble Vison
Fighter (Special Olympics Official Anthem 2017)
Helene Fischer - Youtube (2017)

I Feel Love
Donna Summer - I Remember Yesterday (1977) - Casablanca
Drop The Needle
Maestro Fresh Wes - 12" (1989) - LMR/Attic

I Go To Work
Kool Moe Dee - 12" (1989) - Jive
Who Do You Love
Deborah Cox - 12" (1996) - Arista

Everybody's Gotta Learn Sometime
The Korgis - Dumb Waiters (1980) - Rialto
Celebration
Kool & The Gang - Celebrate! (1980) - De-Lite
I Heard It Through The Grapevine
Gladys Knight & The Pips - Anthology 2LP (1973) - Motown
Tell Me I'm Not Dreamin' (Too Good To be True)
Jermaine Jackson Michael Jackson - 7" (1984) - Arista
Shame, Shame, Shame
Shirley (And Company) - 7" (1974) - Vibration
Can You Feel It
Bill Amesbury - Can You Feel It (1976) - Capitol

Let The Music Play
Shannon - Let The Music Play (1983) - Mirage
Pump Up The Volume
M.A.R.R.S - 12" (1987) - 4AD/Vertigo
Love Makes No Promises
Candi - 7" (1989) - IRS

I Wanna Get Next To You
Rose Royce - 7" (1976) - MCA
Never Gonna Let You Go
Sergio Mendes - 7" (1983) - A&M
Hold Me Now
Thompson Twins - 7" (1984) - Arista
I Want You
Gato Barbieri - Caliente! (1976) - A&M