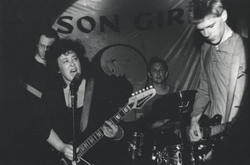 Kid B
Monday February 22nd, 2016 with DJ DesTrois
tribute to Vi Subversa & Poison Girls
Vi Subversa born Frances Sokolov 20 June 1935 was the singer and guitarist of British anarcho-punk band Poison Girls. She passed away 19 February 2016 after a brief illness. She is survived by two children Pete Fender and Gem Stone. This is dedicated to them and all those who have been touched by the magic of her words and music. Truly an inspiration to many the world over...
Piano Lessons
Poison Girls - 12" split w/ Fatal Microbes - Small Wonder/Xntrix (1978)
Ideologically Unsound
Poison Girls - Hex (1979) - Crass/Small Wonder/Xntrix
Jump Mama Jump
Poison Girls - Hex (1979) - Small Wonder/Xntrix/Crass
Persons Unknown
Poison Girls - 7" split w/ Crass - Crass (1980)
State Control / Another Hero
Poison Girls - Chappaquiddick Bridge - Crass (1980)
Rio Disco Stink
Poison Girls - Where's The Pleasure? - Xntrix (1982)
One Good Reason
Poison Girls - 7" - Illuminated (1983)
Take The Toys From The Boys
Poison Girls - Where's The Pleasure? / I'm Not A Real Woman 12" - Xntrix (82 - 84)
Riot In My Mind
Poison Girls - Songs Of Praise - Xntrix (1985)
The Price Of Grain And The Price Of Blood
Poison Girls - The Price Of Grain E.P. - Upright (1985)
Offending Article
Poison Girls - 7 Year Scratch - Xntrix (1983)