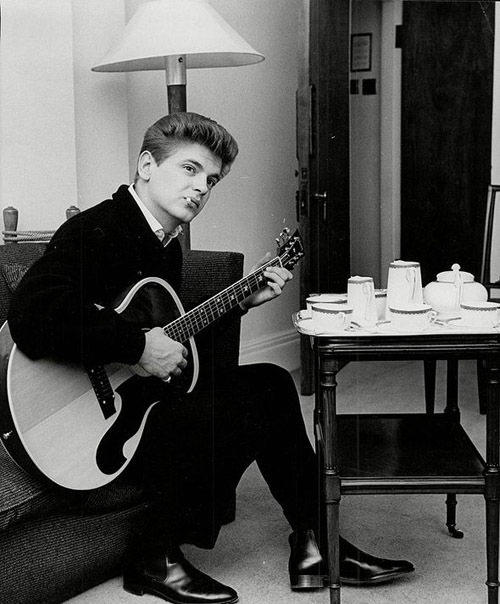 Friday Nite Truck Stop
Friday January 3rd, 2020 with Ray Harris
Salutes to Sleepy LaBeef who we lost December 26, Elvis' birthday on the 8th, The Hawk's on the 10th, Hank & Townes both died on New Years. Phil Everly died 6 years ago today - so in his honour, we're gonna play a whole hour of Everly covers & stuff!
CJ Shuffle (instrumental)
Pat Johnson - Stumps

Treat Me Like A Dog
Sleepy LaBeef - Oxford American Music CD - Arkansas
Blackland Farmer
Sleepy LaBeef - The Best Of...
Who Do You Love
Ronnie Hawkins - Arkansas Rockpile

Home From The Forest
Ronnie Hawkins - The Giant Of Rock´n´Roll

Promised Land
Elvis Presley - Promised Land
Your Cheatin' Heart
Elvis Presley - Elvis for Everyone
Move It On Over
Maddox Brothers And Rose - America's Most Colorful Hillbilly Band
Hey Good Lookin'
Roy Orbison - Hank Williams The Roy Orbison Way
I'm So Lonesome I Could Cry
Little Richard - King Of Rock'n'Roll
Long Gone Daddy
Hank Williams - The Best Of...
No Place to Fall
Townes Van Zandt - Rear View Mirror
Hank & Tee Tot
Pat Johnson - Stumps

Fiddlin' Man
Billy MacInnis - Strings Attached


The Coal Boat Song
Stompin' Tom Connors - The Best Of...

Cool Green River
David Wiffen - Songs From The Lost & Found

Why You Been Gone So Long
Buffy Ste-Marie - Quiet Places

Fun Ranch Boogie (instrumental)
Albert Lee - From Albert Lee instructional video
Gone Gone Gone
The Everly Brothers - Walk Right Back
Stick With Me Baby
Robert Plant & Alison Krauss - Raising Sand
Bowling Green
Neko Case & Her Boyfriends - The Virginian
The Price Of Love
Poco - Cowboys & Englishmen
Devoted To You
The Blue Shadows - Live

Kentucky
Billie Joe Armstrong & Norah Jones - Foreverly
Wishing
Buddy Holly - The Complete...
Rave On
Phil & Jason Everly - The Crickets and Their Buddies
Brand New Heartache
Gram Parsons and Emmylou Harris - Sleepless Nights
So Sad (To Watch Good Love Go Bad)
John Prine and Connie Smith - In Spite Of Ourselves
Maybe Tomorrow
Allison Moorer & Shelby Lynne - Live
Walk Right Back
Chris Hillman - Bidin' My Time
Used To Love You
Dead Rock West - It's Everly Time
Claudette
Dwight Yoakam - Under The Covers
When Will I Be Loved
Linda Ronstadt - Heart Like A Wheel
Lover Goodbye
Tanya Tucker - TNT
Somebody Help Me
Dawn McCarthy and Bonnie "Prince" Billy - What The Brothers Sang
Stories We Could Tell
Tom Petty & The Heartbreakers - Running Down a Dream
'Til I Kissed You
The Chapin Sisters - A Date With The Everly Brothers
Hey Doll Baby
Sweethearts Of The Rodeo - s/t
All I Have To Do Is Dream
Tami Neilson w/Jay Neilson - The Kitchen Table Sessions Vol.1

I'm On My Way Home Again
The Everly Brothers - Walk Right Back