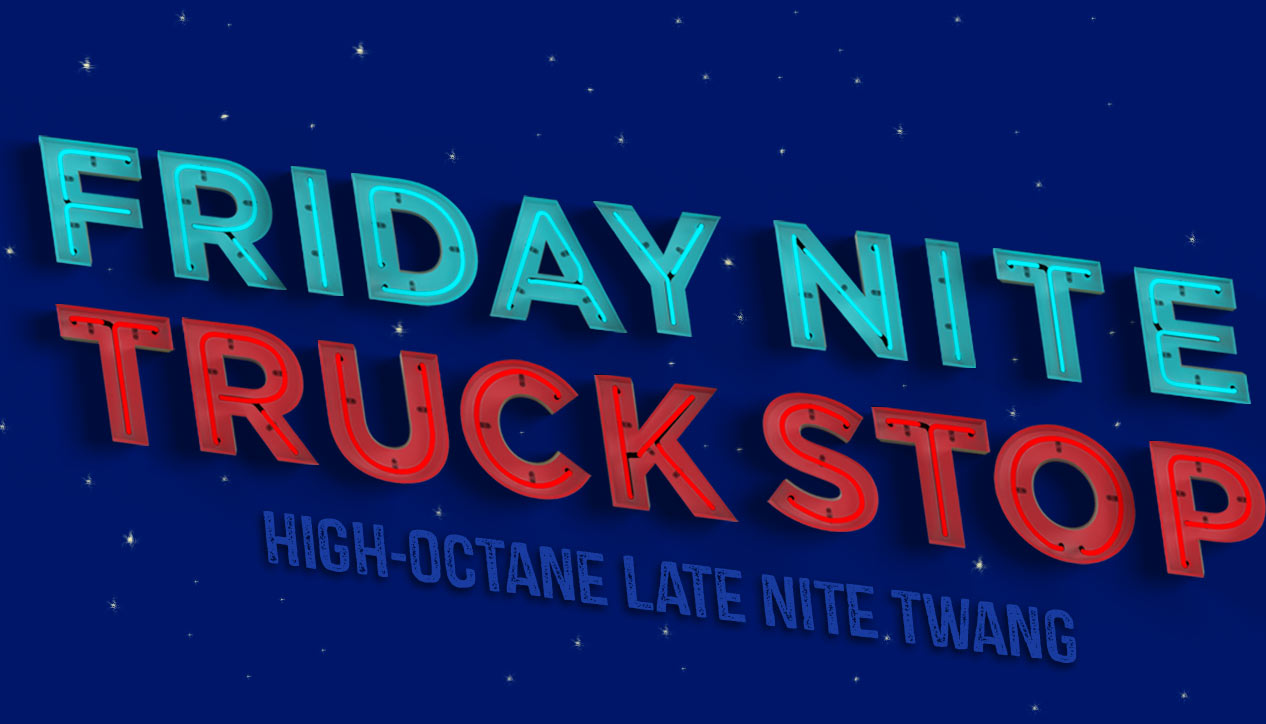 Friday Nite Truck Stop
Friday September 27th, 2019 with Lefty!
All My Loving
Joel Paterson - Let It Be Guitar!

Freightliner Full of Sins
Big Tobacco & The Pickers - The King Is Gone

Cocaine Country Dancing
Paul Cauthen - Room 41

Last Man Standing
Sturgill Simpson - SOUND & FURY

Workin' For The Music Man
Daniel Romano - Workin' For The Music Man

If I Wanted Your Opinion
Michaela Anne - Desert Dove

Wear Out The Soles Of My Shoes
Deke Dickerson - "Greatest Hits" Volume 1
Happy Reunion
Colter Wall - Colter Wall & The Scary Prairie Boys


Lurking In The Dark
Doghouse Rose - Bourbon & Gasoline

At The Bar
Parker Millsap - s/t
Ocean of Tears
JP Harris and Miss Tess - Why Don't We Duet In The Road (Again)

Mother's Scorn
Shovels and Rope - s/t
It's Still Rock and Roll To Me
Corb Lund - Cover Your Tracks


Dancin' Ricky
Drive-By Truckers - Live At Third Man
I'll Be Gone
The Milk Carton Kids - single

Six Shooter
Dustin Bentall - Six Shooter

One Night Baby
Peter & The Wolves - Here Comes Peter & The Wolves
Pimento
Heavy Trash - Midnight Soul Serenade
9lb Hammer
Charley Crockett - The Valley and Other Autobiographical Tunes

Du Duvet Dans Les Poches
Lisa Leblanc - s/t

Blue Trash
The Dead South - Sugar & Joy


Owen Sound
Elliott BROOD - Days Into Years

Louisiana Woman Mississippi Man
Old Crow Medicine Show w/ Margo Price - Live At The Ryman

Golden Grease
Banditos - s/t
7 Come 11
Vincent Neil Emerson - Fried Chicken and Evil Women

Walkin' Boss
The Sadies - Pure Diamond Gold
Die Happy
Them Coulee Boys - Die Happy

Cock-a-doodle Don't
Brian Setzer - Rockabilly Riot!
Justified
Have Gun, Will Travel - Strange Chemistry

Where The Eagles Fly
Pat Capocci - Hot Hot Heat

Get Out Of My Way!
Mojo Nixon and Skid Roper - Get Out Of My Way!
Beggars Will Ride
Larry and His Flask - All That We Know
With You
Top Cats - Piece Of My Heart
Spaghetti No Sauce
Cousin Harley - It's A Sin