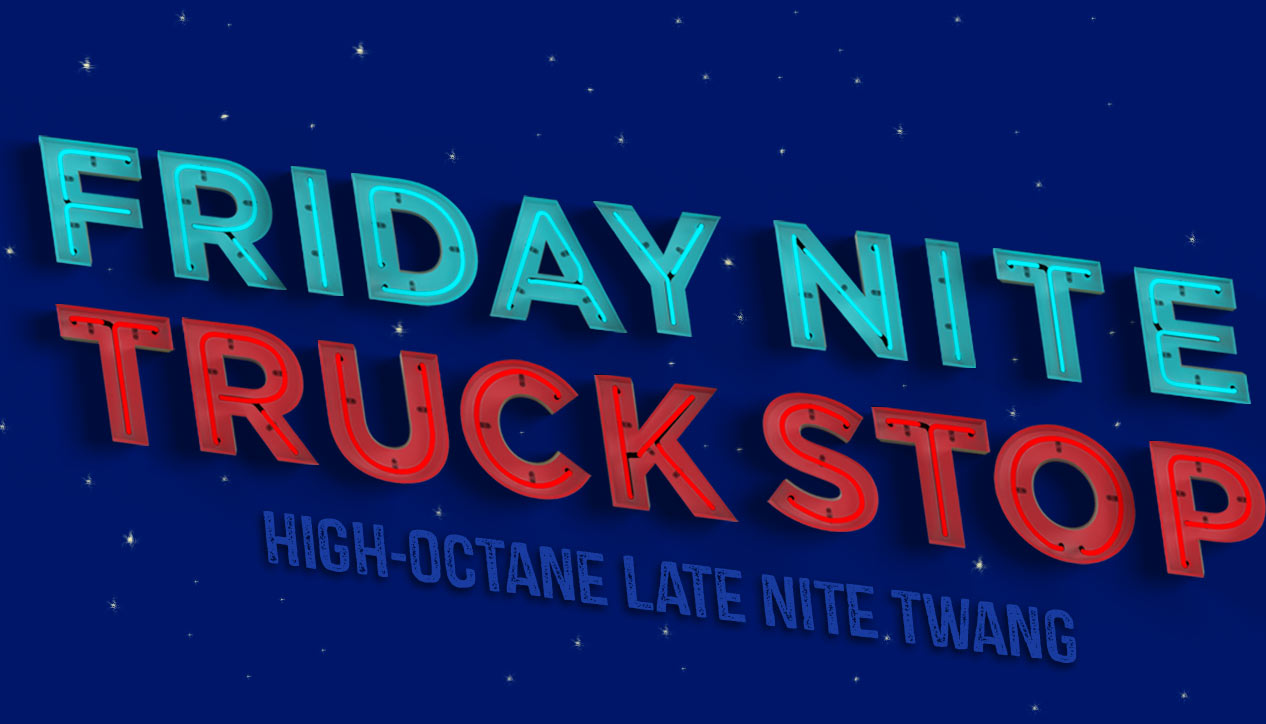 Friday Nite Truck Stop
Friday January 18th, 2019 with Ray Harris
"Hello" songs, Cash Bash 2019 artist preview, new stuff from The Rizdales, RIP Whitey Shafer, and more honky tonkin' amazingness!
Quicksand (instrumental)
Marty Stuart and His Fabulous Superlatives - Way Out West
Hello Trouble
The Desert Rose Band - Running
Hello Mary Lou
Rick Nelson - In Concert: The Troubadour 1969
Hello Stranger
Emmylou Harris - Luxury Liner
Hello Walls
Faron Young - Greatest Hits
Hello Darlin'
Conway Twitty - Greatest Hits
Hello In There
John Prine - s/t
Hello Miss Lonesome
Marlon Williams - s/t
Cash Bash 2019! https://www.facebook.com/events/1272050029602102/
Come In Stranger
Johnny Cash - Original Golden Hits, Vol. 2
Strange
Pat Moore - Take it to Heart

Bulldog Down In Sunny Tennessee
Mabel Beggs - .

Kissing In Prison
Slo' Tom & The Handsome Devils - Down In A Goverment Town

Dirty Little Mind
Steve Stacey and The Stump Splitters - Tall Tales, Fibs and Outright Lies

Striking Matches
Howie Hooper - The Art of Procrastination

Everybody's Trying To Be My Baby
Johnny Cash - Unearthed
Frankie's Out On Parole
La Dell Sisters - single
Leaving Houston Blues
Bobbie Cryner - s/t
Devil In A Dress
Tami Neilson - SASSAFRASS!

The Spook (instrumental)
Pete Drake - Forever
Cadillac
Steve Earle - Early Tracks
Don't Hold Your Breath
Sean Oliver - Songs Left To Sing


Love, Oh Crazy Love
June Carter & Carl Smith - Deluxe Classics
Go Boy Go
Carl Smith - The Essential...
Hey Joe
Goldie Hill - Best Of...
Swap Meat Rag
Carlene Carter - Two Sides To Every Woman
Don't Blow No Smoke On Me
Sammi Smith - Help Me Make It Through The Night
Running From The Rain
Waylon Payne - Drifter
All My Exes Live in Texas
Sanger D. "Whitey" Shafer - All My Exes Live in Texas
I Never Go Around Mirrors
Lefty Frizzell - Greatest Hits
Does Fort Worth Ever Cross Your Mind?
George Strait - Greatest Hits
One More Beer
The Rizdales - Lucky Enough


King Of All The Taverns
Little David Wilkins - King Of All The Taverns
Yes Ma'am (I Found Her In a Honky Tonk)
Glenn Barber - single
Honky Tonk Happy
Margie Singleton & Faron Young - single
If You Really Want Me To, I'll Go
Nudie - Everything's Different In The Night

It Came From The South
Robbie Fulks & Linda Gail Lewis - Wild Wild Wild
Walkin' Down The Line
Evergreen Blueshoes - The Ballad Of Evergreen Blueshoes
America's Great National Pastime
The Byrds - Farther Along