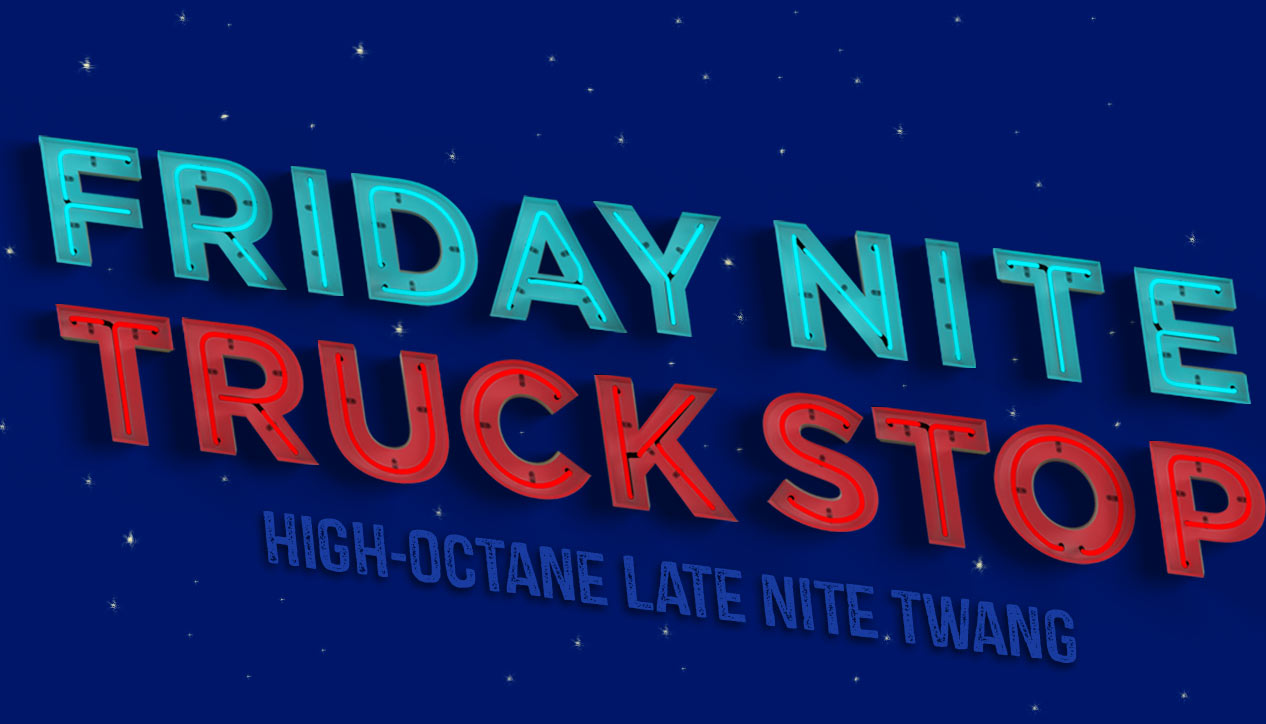 Friday Nite Truck Stop
Friday December 21st, 2018 with Ray Harris and Lefty!
Holidayz Madnessez!!!
Deck The Halls
The Kingmakers - Kingmakers Christmas

The Chipmunk Song
The Good Lovelies - Under The Mistletoe

When The Fat Guy Tries The Chimney On For Size
Rodney Crowell - Christmas Everywhere

Rockin' Around The Christmas Tree
The Baseballs - Good Old Christmas
A Kiss For Christmas
Elizabeth Cook - Yuletide From The Other Side
So Much Wine Merry Christmas
Andrew Bird - Things Are Really Good Here, Sort Of...
(I Wanna Spend My) Christmas Time With You
Phil Lee - Yuletide From The Other Side
Christmas Song
The Get-Rites - Pedal Steel Heaven
Nothing But A Child
Steve Earle - Copperhead Road
Bytown New Years Eve
Slo' Tom & The Handsome Devils - TenVolt For The Holidays


If We Make It Through December
Merle Haggard - If We Make It Through December
All Season Tired
Carolyn Mark - Ho! Ho! Ho! Canada 5

Another Christmas Without You
The Epileptic Hillbillys - The Western Star Rockabilly Christmas Party
Satan Is Real
The Louvin Brothers - Satan Is Real
Santa Is Real
Alexander Lindbäck - Single
Christmas Is Cancelled Get Drunk
The Harmed Brothers - Single
Christmas In The Morning
Brown Bird - The Brown Bird Christmas Album
Sleigh Ride
Memphis In Orbit - Yuletide From The Other Side
The Night Before Christmas
Homer and Jethro - Cool Crazy Christmas with Homer and Jethro
You're a Mean One, Mr. Grinch
Boris Karloff - How The Grinch Stole Christmas
Christmas Time Is Coming
KJ Thomas - TenVolt For The Holidays


Must Be Santa
Bob Dylan - Christmas In The Heart
Merry Christmas To Me
Slo' Tom & The Handsome Devils - ♪♫♪

Santa Looked A Lot Like Daddy
Buck Owens - Buck Owens Christmas
The Last Christmas Song
Ray Harris - TenVolt For The Holidays


A 55 Telecaster Under My Tree
Carlene Carter with John Jorgenson - ♪♫♪
A Cowboy's Christmas
Davy Jay Sparrow - single
Your Place or Mine
Gary Stewart - Your Place or Mine
Twinkle (Little Christmas Lights)
JD McPherson - single
I've Got Some Presents for Santa
Kassandra Carroll and the Martini Kings - Single
Christmas On Plastic
Bad Detectives - The Western Star Rockabilly Christmas Party
Christmas Eve Can Kill You
The Everly Brothers - Stories We Could Tell
Let It Snow! Let It Snow! Let It Snow!
The Brian Setzer Orchestra - Dig That Crazy Christmas
Fucked Up Christmas
Slo' Tom and Miss Maureen - single
What Child Is This
The Reverend Horton Heat - We Three Kings