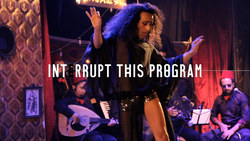 Soy Latinoamerica
Monday November 16th, 2015 with Alejandro Hernandez
Interview with Frank Fiorito and Nabil Mehchi, Interrupt This Program series co-creators (producer and director respectively)
Interrupt This Program uncovers the underground arts scenes in cities that have experienced major traumas: natural disasters, long-term war, political unrest or economic meltdown. This series documents the creative underbellies of five unique cities, each facing its own set of challenges: Beirut, Kiev, Athens, Port-au-Prince and Medellin. In each episode, we meet three or four young, determined local artists (plus one Canadian ex-pat to offer an outsider's perspective) who are committed to making art that elicits change, displays courage or protests their city's political and societal status quo. In Beirut; a writer, a graffiti artist, a hip-hop artist and a Baladi (belly) dancer embody art as protest in a post-civil war city divided by religion. In Kiev; a poet, a rocker and a performance artist continue to push creative boundaries in a city that is struggling in the wake of the Euromaidan Revolution. In Athens; a photographer, an electronic pop band, a mural artist and a writer demonstrate how art is a means of survival in the midst of a city under economic crisis. In Port-au-Prince; a radio host, a photographer, a Rabòday singer and a creole rapper showcase the emerging and subversive sounds and images of Haiti in the aftermath of the devastating earthquake. In Columbia's city of Medellin, once considered the most dangerous place in the world; a rapper, a musician, a filmmaker and an urban planner take us on a tour of their city currently experiencing a cultural renaissance. Tune into CBC TV at 8:30 p.m. on Friday, November 6 to catch the premiere of Interrupt This Program!
http://www.cbc.ca/beta/arts/interruptthisprogram/about-interrupt-this-program-1.3282382
Guajira Bonita
Julián Ávalos (Peru) - Music from the coffee lands - Background
Soltarlo
Claudia Gómez (Colombia) - Music from the coffee lands - Background
Wasuze Otya?
Samite (Uganda) - Music from the coffee lands
Mará Lando
Susana Baca (Peru) - Music from the coffee lands - Background
Ahogado en vino
Spastico (Colombia) - .
Below the baseline
Ernest Ranglin (Jamaica) - Music from the coffee lands - Background
M'Ban Samba
Raimundo Sodré (Brazil) - Music from the coffee lands - Background
Yo no sé mañana
Luis Enrique (Nicaragüa) - .