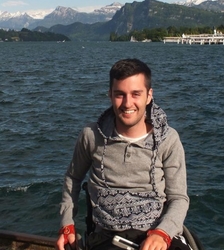 Soy Latinoamerica
Monday October 19th, 2015 with Alejandro Hernandez
Interview with rising Paralympic track and field star, Brett Babcock
Brett Babcock is a well-known and highly accomplished member of the Canadian and International Trampoline and Tumbling community. Brett was born and raised in Kingston, Ontario. He started training at the Kingston Aeros when he was just seven and began competing at age nine. For the next nine years, Brett trained extensively, competed in Provincial, National and International competitions, won medals, and set records. He represented Canada as the youngest competitor in the senior division at the 2012 Canada Cup and competed at four World Age Group Competitions. He is a highly regarded athlete, passionate about the sport, inspiring to fellow teammates, and just simply a great guy. In 2012, Brett moved to Edmonton to study at the University of Alberta and to continue his training. On October 1st, 2012, in his first year of university, while training for the Indo Pacific Championships (being held in Sydney, Australia), Brett suffered a tragic and life changing accident that left him a quadriplegic. Brett underwent surgery in Edmonton and soon after was transferred to The Lyndhurst Centre (Toronto Rehab) in Toronto, where he underwent intensive therapy for the next several months. His journey to recovery is nothing less than inspirational! He has resumed his education in Human Rights at Carleton University and is living independently.
http://www.brettbabcockinvitational.ca/home.html
Initation
The soul jazz orchestra (Quebec) - Inner fire

Pepe and Irene
Los Lobos and Money Mark - Silencio = Muerte - Background
Yolanda Niguas
Cafe Tacuba and David Byrne - Silencio = Muerte - Background
One live to live
The soul jazz orchestra (Quebec) - Inner fire

As the crow flies
The soul jazz orchestra (Quebec) - Inner fire

Gente que no
Todos tus mueros and Los autenticos decadentes (Mexico) - Silencio = Muerte
El son del dolor
Cuca and Youth brigade (Mexico) - Silencio = Muerte
Wanna be loved
Los pericos and Buju Banton - Silencio = Muerte
Agoya
The soul jazz orchestra (Quebec) - Inner fire