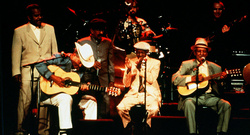 Soy Latinoamerica
Monday March 23rd, 2015 with Alejandro Hernandez
Buena Vista Social Club, 'Lost And Found'
Neil Spencer for The Guardian: "Global conquest was on no one's agenda when a clutch of Cuban veterans cut Buena Vista Social Club with Ry Cooder back in 1996, but the album became a phenomenon. Though several key players have since passed, the group are currently on an "Adios" tour, to which this collection of live tracks and studio offcuts is a nice companion. The passion and intimacy of those original sessions is there on tracks by Compay Segundo and Omara Portuondo; Ibrahim Ferrer's three live songs capture him with a brassy big band; and guitarist Eliades Ochoa has two winning after-hours pieces. A patchy but sweet memento."
http://www.theguardian.com/music/2015/mar/22/buena-vista-social-club-lost-and-found-review-patchy-but-sweet-memento
Brigas nunca mais
Paula Morelenbaum (Brazil) - Brazilian Lounge - Background
Bruca Munugua
Buena Vista Social Club (Cuba) - Lost and Found

Meu Esquema
Mundo Livre S/A (Brazil) - Brazilian Lounge - Background
Macusa
Buena Vista Social Club (Cuba) - Lost and Found

Ha dias
Luca Mundaca (Brazil) - Brazilian Lounge - Background
Tiene sabor
Buena Vista Social Club (Cuba) - Lost and Found

Previsao
BossaCucaNova ft. Adriana Calcanhotto (Brazil) - Brazilian Lounge - Background
Bodas de oro
Buena Vista Social Club (Cuba) - Lost and Found

Black chicken 37
Buena Vista Social Club (Cuba) - Lost and Found

Agua de Coco
Marcos Valle (Brazil) - Brazilian Lounge - Background
Habanera
Buena Vista Social Club (Cuba) - Lost and Found

Como fue
Buena Vista Social Club (Cuba) - Lost and Found