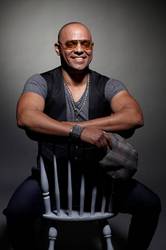 Soy Latinoamerica
Monday November 24th, 2014 with Alejandro Hernandez
Interview with Rafael y su orquesta Rafael y Energía Dominicana
El merenguero y bachatero, Quebequense-Dominicano, Rafael y su orquesta Rafael y Energía Dominicana lanzó su primera producción discográfica Enamorarse en la playa, el 19 de noviembre de 2013. Enamorarse en la playa incluye trece composiciones originales de Rafael de diferentes géneros de música latina como merengue, bachata, salsa y balada. El álbum es producido por Rafael, Pascal Laraque y Kuky Carbuccia, y la participación de Jesus Alejandro El Niño y Chris Perry, en Montreal, Quebec. Rafael (Wilsikin Esteban Medina) es un cantante-compositor-interprete oriundo de Bani, República Dominicana y ahora establecido en Montreal. En 2008, Rafael comenzó su carrera como solista con su orquesta de nueve músicos, Rafael & Energía Dominicana. Sin un álbum disponible en el mercado, Rafael y Energía Dominicana han actuado en algunos de los festivales y eventos más prestigiosos de Canadá incluyendo el Festival Internacional Nuits d'Afrique (por tres años consecutivos), Vancouver 2010 Olimpiada Cultural-Paralímpicos en Whistler, British Colombia, y el Festival Internacional Ritmos du monde du Saguenay (dos años). Rafael también realiza actividades como voluntario con Sun Youth de Montreal/Jeunesse au Soleil, Heritage Home Rehabilitation y la Canadian Cancer Society. Enamorarse en la playa se lanzó por el sello discográfico, Vivo Musique de Montréal, y es distribuido por DEP Distribution Ltd.- Universal Music Canada-Believe numérique.
Tirando Duro
Rafael & Energía Dominicana (Canada) - Enamorarse en la playa - Background


Enamorarse en la playa
Rafael & Energía Dominicana (Canada) - Enamorarse en la playa


Amor del negrito
Rafael & Energía Dominicana (Canada) - Enamorarse en la playa - Background


No le pegue a la mujer
Rafael & Energía Dominicana (Canada) - Enamorarse en la playa


Bailame
Rafael & Energía Dominicana (Canada) - Enamorarse en la playa - Background


Hasta que salga el sol
Rafael & Energía Dominicana (Canada) - Enamorarse en la playa - Background


Margarita
Rafael & Energía Dominicana (Canada) - Enamorarse en la playa


Tu belleza
Rafael & Energía Dominicana (Canada) - Enamorarse en la playa


No puedo vivir sin su amor
Rafael & Energía Dominicana (Canada) - Enamorarse en la playa - Background


Sembrando amor
Rafael & Energía Dominicana (Canada) - Enamorarse en la playa


No toques fondo
Rafael & Energía Dominicana (Canada) - Enamorarse en la playa