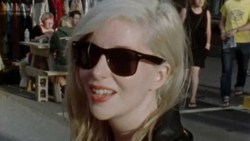 Reigning & Training
Wednesday April 22nd, 2015 with Owen
Rain Rain Go Away
The perfect jams to get you through the rain. Especially with bands like Alvvays, Mini Mansions, Courtney Barnett and Foxygen.
Witness
Will Butler - Policy


Depreston
Courtney Barnett - Sometimes I Sit And Think, And Sometimes I Just Sit

Too Pretty
Stella Ella Olla - I Think We Should Hold Hands All The Time

Any Emotions
Mini Mansions - The Great Pretenders

Fan The Flames
Sheer Mag - II 7"

Shattered Winds
Budos Band - Burnt Offering
Hey Kids!
Arkells - High Noon

Too Hip To Retire
Justin Hurwitz & Tim Simonec - Whiplash OST

Broken Bag
NIGHTSHADES - The Beauty Of Dreaming - EP


So Down Low
The Elwins - Play For Keeps


Adult Diversion
Alvvays - Alvvays

Modern Love/No Weapon
Priests - Bodies & Control & Money & Power
No Destruction
Foxygen - We Are The 21st Century Ambassadors Of Peace & Magic
Alana
Kings Quest - Fox Island