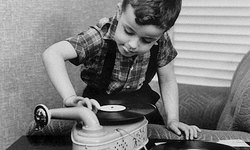 Reigning & Training
Thursday December 18th, 2014 with PeterB
Musical monkey business...
Today's adventure wanders from ambient, to noise, to funk, to surf, to ...
Open Your Book
Kid Koala - Space Cadet

First, some mellow sounds. Plush productions.
Icarus' Talons
Bitter Tree - Promethean Cloud

Pieces
Bonobo (w. Cornelia) - The North Borders
Shri Durga (State of Bengal remix)
dj Cheb i Sabbah / The State of Bengal - Maha Maya, Shri Durga Remixed
Very, Very Hungry
Brian Eno & David Byrne - My Life in the Bush of Ghosts
Inductive Resonance
Robert Fripp & The League of Gentlemen (aka King Crimson) - Sometimes God Hides - The Young Person's Guide to Discipline
The Quiet Surf
John Zorn - The Gift
Now, onto more of a jazz/funky/hip-hop/dub -ish flow. Sliding slowly into PLAY LOUD territory!
4am in Parkdale
Grand Analog - Modern Thunder

Heart the Lonely Hunter (feat Amanda Balsys)
Grand Analog - Modern Thunder

Don't Give Up the Fight (feat. Ziggy Marley)
Public Enemy - The Evil Empire of Everything
Higgs Boson
Five Alarm Funk - ABANDONEARTH

Palm Bay
Roberta Bondar - Caustic EP

Exit, stage left...
Shout Outs From The Block
Fugees - Blunted On Reality