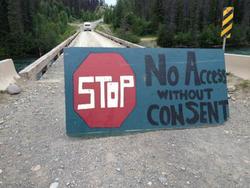 OPIRG Roots Radio
Tuesday September 1st, 2015 with DJ Haller; DJ Ashraf
Canada's Revival of Folk-Protest Songs
Looking for something a little different than comments about Justin Trudeau's hairstyle? We're starting off our show with a grab bag of our favorite Stephen Harper protest songs because, well let's be honest, there's just so darn many these days. After that, we'll be covering Albert Dumont's panel at Arboretum 2015, and giving you all the info we can about the call to action in response to the potential militaristic acquisition of the unceded Unist'ot'en territory in BC. Finally... Welcome back everyone! It's Frosh month, and we're covering some of the events that you won't want to miss, including the GSA Welcome Week (including an interview with Vidushi Gupta, VP Operation for the GSA), as well as OPIRG's own Radical Frosh. Keep an ear out!
HarperMan
Tony Turner - -

Stephen Harper Hates Me
Cathy Cook - -

Stephen Harper's Grave
John Muller - -

The Harper Song
John Roby - -

Reconciliation
Jah'Kota ft. LB and Albert Dumont - -

Everybody Knows
Leonard Cohen - -

Oh No
Gogol Bordello - -