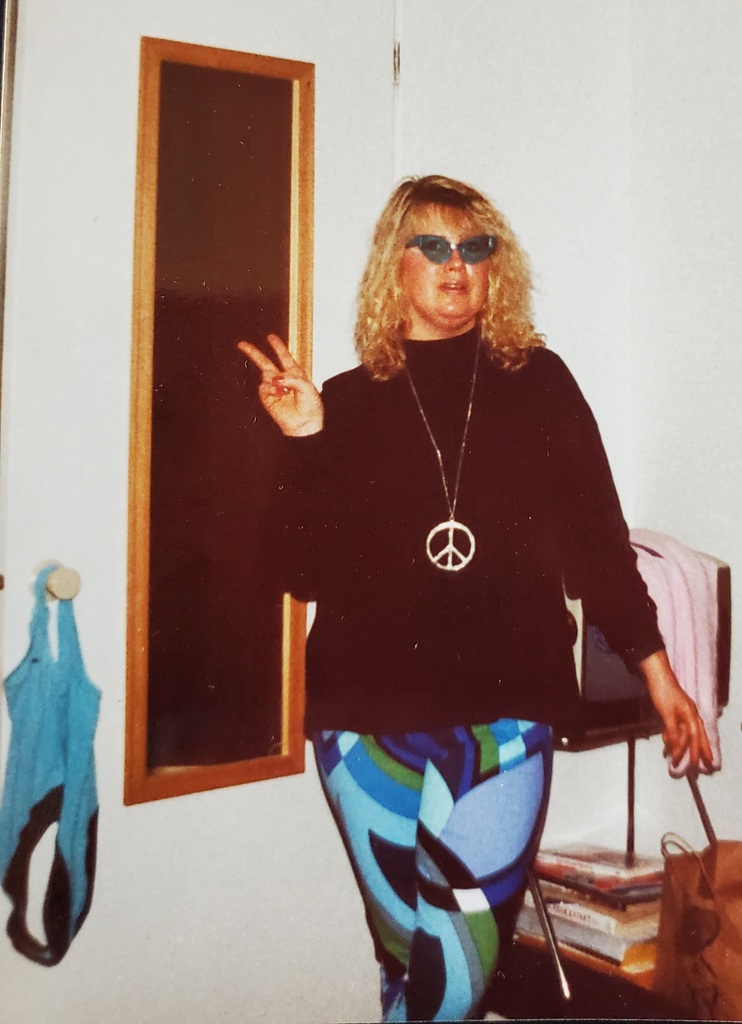 Heavy Friends
Saturday May 29th, 2021 with Jas Nasty
Doing It For Donna pt.1
Tribute to my mother Donna (April 30, 1960 to April 30 2021) ~ some of her old records and favourites, and some Jasmine feelings mixed in ~
Donna The Prima Donna
Dion (Di Mucci) - 45 - Columbia
Donna was obsessed with the song Lady in Red... her and her friend Cathy even went to see Chris De Burgh live twice here in Ottawa in 2012 or 2015? and 2017. I have to say the song is still growing on me... but we are Doing It For Donna.
The Lady In Red
Chris De Burgh - 45 - A&M 1986
I'd Rather Go Blind
Chicken Shack (Christine McVie) - 45 - Columbia
A Violet and A Rose
Wanda Jackson - 45 - Capitol
Do You Know The Way To San Jose
Dionne Warwick - My Greatest Hits - Polydor 1975
It's really special to me to have Donna's old records, especially this one. She would often sing this, and I have vivid memories being a kid and her putting on this song, as well as a visual memory of a sweet painting of Dionne's smiling face on the cover. I thought San Jose was this amazing magical place we needed to visit someday.

Many of Donna's records were Greatest Hits/ compilations that we wouldn't normally play on radio or DJing... but that is what regular music lovers listened to at home. Much of her collection was from circa 1975- this one has the classic hit Summer Breeze which contains my name, Jasmine, in two different contexts referring to the flowers of course... I chose to play Hummingbird though, as since her passing there have been countless hummingbird signs and 'coincidences' connected with her, for my siblings and I... lots of birds, bees, and flower magic surrounding...
Hummingbird
Seals & Crofts - Greatest Hits - Warner Bros. Records 1975
The Birds and The Bees
Jewel Akens - At The Hop! - MCA
Donna was really into the Jane Fonda workout. At some point when I was a kid she of course got the VHS video instead of the record, and subsequent Jane Fonda workouts - or maybe they were on TV? I have memories of waking up to Jane's voice and sitting eating my cereal watching her workout which she would do every morning, so I had to play a clip here in tribute of course. You can see a very 80's excercise suit hanging from the door in the photo...
The Bricklayer's Beautiful Daughter
William Ackerman - Jane Fonda's Workout Record - Columbia 1981
Mother
Pink Floyd - The Wall - Columbia 1979
In My Room
The Walker Brothers - Greatest Hits - Polygram 1966
*live show update* t_al_z informed me that Motherlode were in fact Canadian!
Cute to think of my Mom at 11 years old with this compilation record with her. They used to bring their few records to parties and everyone would put on a few.... I like that idea. Let's hope we can all play records together soon.
When I Die
Motherlode - 24 Dynamic Hits - Syndicate 1970 ?

Heart Of Stone
The Rolling Stones - 45 - London
Over My Head
Fleetwood Mac - 45 - Reprise 1975
Wuthering Heights
Kate Bush - 45 - EMI 1977
Wild Horses
The Rolling Stones - 45 - BMI
Rhiannon
Fleetwood Mac - 45 - Warner Bros. Records 1976
Downtown
Petula Clark - 45 - Vogue
Donna
Ritchie Valens - 45 - MGM 1973
I'm A Believer
The Monkees - 45 - RCA Victor
Mom grew up watching The Monkees...

Many of my music memories associated with Donna are her singing and driving listening to the radio here in Ottawa, the dial was normally set on Oldies 1310 on the AM radio, or else CHez 106.
When I was 14, she thought I was insane how much time I would spend making tapes recording songs from either station. A forgotten time perhaps, when we just had to wait for our songs to come on the radio, before you could conjure them up through the internets on devices?

Donna and I went to see Heart in 2012 and we were blown away at these power house sisters still rocking it. While she had trouble with the venue stairs, ushers and I were surprised when she shot up out of her seat when they played Crazy, and Magic Man :)
Crazy On You
Heart - 45 - Mushroom
House Carpenter
Buffy Sainte-Marie - Little Wheel Spin and Spin - Vanguard

One of the last times I saw Donna in person (at the Civic hospital with special family priveleges to visit due to COVID restrictions), in Sept. or Oct. 2020 we got into a fight because I had brought her a magazine with an article about Buffy Sainte-Marie I had forgotten she had actually given to me... so she needed to prove to me she had been even more of a fan, and of course, before I even existed- even the awkward memories are bittersweet now.

Janis Joplin Pearl was the only album Donna had the record, the 8 track, and the cassette tape of! (that I know of) and this one was always a sing along when it came on the radio (Oldies 1310!)

Born To Be Wild was Donna's ultimate driving song she would sing even when the song was not on the radio... "Get your motor runnin'....."
Me & Bobby McGee
Janis Joplin - Pearl - Columbia
Born To Be Wild
Steppenwolf - Easy Rider - Reprise
Mother's Little Helper
The Rolling Stones - Hot Rocks - London 1967
Ruby Tuesday
Melanie - 20 Heavy Hits Vol.1 - K-tel (Columbia) 1964
Stop Draggin' My Heart Around (Ft. Tom Petty & The Heartbreakers)
Stevie Nicks - Bella Donna - Modern 1981
The Chain
Fleetwood Mac - Rumours - Warner Bros. Records 1977
I have two copies of my desert island disc, Rumours by Fleetwood Mac - although I am not sure which was Mom's and which was my Dad's - but the only album they kept both copies of when their collections came together.... (again, that I know of - will certainly be hunting down the rest of the collection when possible)

I have to admit it was a bit weird to listen to this 10cc record of hers (or shared with my Dad) and hear a phone ring in the song Donna, to which someone answers and hears, "I love you".... and other songs "the Hospital song" and "Fresh Air For My Momma" - it's sad to think Mom never got to go outside again after June 20, 2020 when we got to visit with her before her spinal surgery.
Donna
10cc - 10cc - UK Records 1973
Fresh Air For My Momma
10cc - 10cc - UK Records 1973
Magic Man
Heart - Dreamboat Annie - Mushroom 1975
We're Here For a Good Time (Not A Long Time)
Trooper - 45 - MCA 1977

I won't be sharing the story here, but let's just say there is a wild party Donna story involving the band Trooper at their show with Joe Cocker in the mid 1970's.

I guess you don't have to ask if we are a Beatles or Stones family... apologies to CKCU and the CRTC for playing so much Rolling Stones... Donna really loved Mick Jagger ; I grew up with a poster of him in the laundry room...
Miss You
The Rolling Stones - 45 - Rolling Stones Records 1978
My My, Hey Hey (Out Of The Blue)
Neil Young - Rust Never Sleeps - Reprise 1979

Lullaby
Emitt Rhodes - Emitt Rhodes - Dunhill 1970
Time Moves Slow feat. Sam Herring
BADBADNOTGOOD - IV - 2016