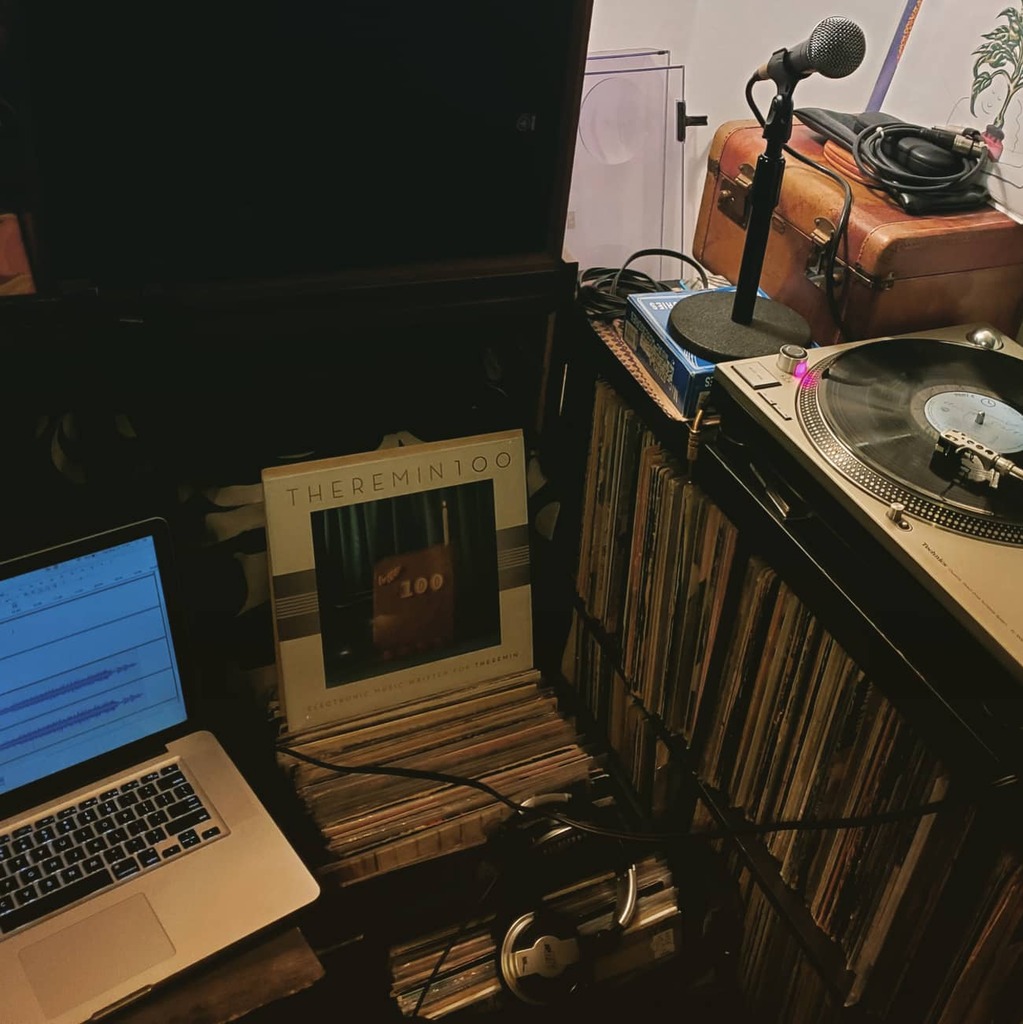 Heavy Friends
Saturday May 16th, 2020 with Jas Nasty
Deep Sounds
Gentle electronic sounds to float through the void to ~ ambient synth and theremin driven music
cello song
Laurie Anderson - United States Live - 1984 Warner Bros. Records
We've Got Four Big Clocks and They're All Ticking
Laurie Anderson - United States Live - 1984 Warner Bros. Records
Blue Lagoon
Laurie Anderson - United States Live - 1984 Warner Bros. Records
Rising Sun
Laurie Anderson - United States Live - 1984 Warner Bros. Records
Symphony to A Spider Plant
Mort Garson - Mother Earth's Plantasia - 1976/ 2019 Sacred Bones Records
Ode To an African Violet
Mort Garson - Mother Earth's Plantasia - 1976/ 2019 Sacred Bones Records
Hall of Mirrors
Kraftwerk - Trans-Europe Express - 1977 Capitol
THEREMIN 100: Electronic Music Written For Theremin - The New York Theremin Society 001NYTS 2020 (January) https://nythereminsociety.bandcamp.com/album/theremin-100

To mark the 100th birthday of the theremin, the NY Theremin Society released a compilation featuring 51 international theremin artists from 18 countries performing original works.
It was Curated by Dorit Chrysler who is an Austrian born thereminist, composer, producer, and singer. She is the co-founder (with Suzanne Fiol of Issue Project Space) of the New York Theremin Society and started America's first school for theremin, "KidCoolThereminSchool". and as well is the founder of "Dame Electric Festival."While Dorit has a track on the compilation as well, I will play something from her 2012 album Avalanche.
Waves
Gregoire Blanc - THEREMIN 100: Electronic Music Written For Theremin - 2020 - The New York Theremin Society 001NYTS

In Green
Lydia Kavina - THEREMIN 100: Electronic Music Written For Theremin - 2020 - The New York Theremin Society 001NYTS

Sputnik Crash
Therminal C - THEREMIN 100: Electronic Music Written For Theremin - 2020 - The New York Theremin Society 001NYTS

The Swamp behind my house
Dorit Chrysler - Avalanche - 2012 hfn
Glass eye
Dorit Chrysler - Avalanche - 2012 hfn
Staylight1
A People of Oscillators - 4WGEP - self released 2018

A People of Oscillators - 4WGEP ~ https://apeopleofoscillators.bandcamp.com

MASS 5 Chambers MASS/ Wasted Cathedral released on Misophonia April 2020 ~ https://misophoniarecs.bandcamp.com/album/masss-wasted-cathedral
5 Chambers
MASSS - MASSS/ Wasted Cathedral - Misophonia April 2020


So We Can Revise How We Survive
Special Costello - Stoner Nights Vol. 3 Self Isolation - Self released March 20 2020


https://specialcostello.bandcamp.com/releases
https://jubilee.bandcamp.com
WYA
Jubilee - CALL FOR LOCATION - 2019 MIXPAK
Good Feeling
Do Oing - 12" - Brainiak records 1991
Three Sonic Spaces: III
Laurie Spiegel - Unseen Worlds - Unseen Worlds 1990/ 2019
Strand of Life ("Viroid")
Laurie Spiegel - Unseen Worlds - Unseen Worlds 1990/ 2019
From a Harmonic Algorithm
Laurie Spiegel - Unseen Worlds - Unseen Worlds 1990/ 2019
Concert at WBAI Free Music Store Buchla 200
Suzanne Ciani - Live Buchla Performances New York City 1975 - FInders Keepers Records 2016