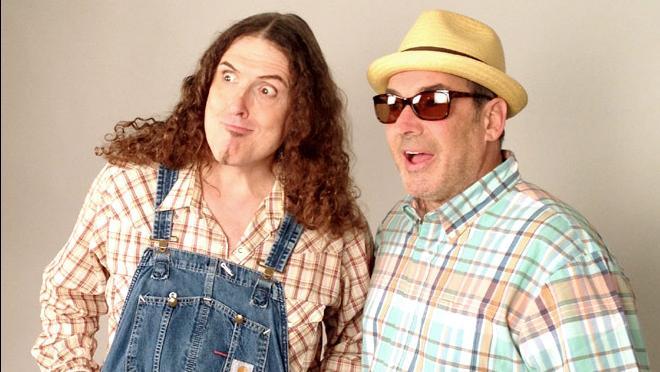 Heavy Friends
Saturday August 18th, 2018 with Heavy Ben and heavy friend Melanie
An exploration and questioning of the notion of novelty songs, parody, bizarre and un-classifiable music from the 1940s to the present day. Classics from the loosely defined genre, humour and absurdity
Happy birthday Jon "Bermuda" Schwartz (drummer for Weird Al Yankovic).
We begin with the self-proclaimed "world's worst orchestra". Then a flurry of 2-minute blues, rockabilly and r&b tunes.
Also Sprach Zarathustra
Portsmouth Sinfonia - Plays The Popular Classics - Transatlantic - 1973
Shaving Cream
Benny Bell - 7" - Vanguard - 1975 (recorded 1946)
They're Coming to Take Me Away, Ha-Haaa!
Napoleon XIV - 7" - Warner Bros. - 1966
Poon Tang
The Treniers - 10" - Okeh - 1952
Calling All Cows
Blues Rockers - The Excello Story - Excello - 1972 (recorded 1955)
Don't Fuck Around With Love
The Blenders - 7" - Jay-Dee Records - 1953
The Crusher
The Novas - 7" - Parrot - 1964
Bikini With No Top On Top
June Wilkinson and Mamie van Doren - 7" - Jubilee - 1964
Enchanted Farm
The Forbidden Five - 7" - Capitol - 1959
Lullaby
Raymond Scott - Soothing Sounds For Baby Volume 1: 1 To 6 Months - Epic - 1964
Trigger Happy
Weird Al Yankovic - Off the Deep End - Scotti Bros. Records - 1992
Skeet Surfing
Val Kilmer - Top Secret! OST - Passport Records - 1984
It's A Gas
Alfred E. Neuman - Flexi-disc single - Mad Magazine - 1966
La Caravane
St. Germain feat. Brigitte Fontaine - Jazz À Saint-Germain - Virgin - 1997
Surfin' Bird
Pee-Wee Herman - 7" - Columbia - 1987
Vertigogo
Combustible Edison - Four Rooms OST - Elektra Entertainment Group
I Am Very Glad, as I'm Finally Returning Back Home (Trololo)
Eduard Khil - (single) - Megaliner - 2010 (orig 1976)
Big Swifty
Frank Zappa - Waka / Jawaka - Bizarre Records - 1972
Unemployment
Steve & The Holidays - 7" - Dandy Records - 1964
Gilligan's Island (Stairway)
Little Roger & The Goosebumps - 7" - Splash Records - 1978
Black Lassie
Cheech & Chong - Cheech & Chong's Wedding Album - Ode - 1974
Do You Think I'm Disco
Steve Dahl & Teenage Radiation - 7" - Ovation - 1979
Wet Dream
Kip Addotta - 7" - Laff Records - 1984
Blowfly's Rapp (Instrumental)
Blowfly - Blowfly's Party - Weird World - 1980
Great Day
The Lonely Island - Turtleneck & Chain - Universal Republic Records - 2011
Kiss My Ass (Clean)
Denis Leary featuring The Enablers and The Rehab Horns - (not on album) - Funny Or Die - 2012
Closer
Richard Cheese - Lounge Against The Machine - Oglio Records
Hungry Like the Bruce (Hungry Like the Wolf lounge cover)
Bruce Campbell - (not on album) Old Spice ad - (not on label) - 2007
Nature Trail To Hell
Weird Al Yankovic - Weird Al in 3-D - Scotti Bros. Records -1984
On veut du R.O.T
Les Suppositoires de Satan (Rock et Belles Oreilles) - The Spectacles - Audiogram - 1987
Majesty of Rock
Spinal Tap - Break Like The Wind - MCA Records - 1992
Fake Songs
Liam Lynch (Duet with Jack Black) - Rock and Roll Whore - S-Curve Records - 2003
One Note Samba - Spanish Flea
Perrey & Kingsley - Kaleidoscopic Vibrations - Vanguard - 1967
Spooks In Space
Perrey & Kingsley - The In Sound From Way Out! - Vanguard - 1966
The Problem With Bodies
Gregory Whitehead - The Pleasure Of Ruins And Other Castaways - Staalplaat - 1993
Green Eggs and Ham
Kevin Ryan - Dylan Hears a Who - (not on label) - 2007
As-Tu Du Feu? (Beurre De Peanut)
Bill - 7" - Celebration - 1982