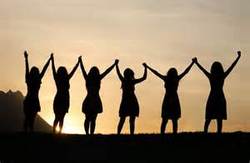 Heavy Friends
Saturday March 8th, 2014 with Ladies Mary, Dianne, Jessica, Karin, Devora, Natasha
Woman Power
Celebrating IWD with music by international women, chosen by all your favourite women selectors!
Heavy Heavy Heavy
Geraldo Pino and the Heartbeats - Afro Rock - Kona 02009
Women Power
Yoko Ono and the Plastic Ono Band - Feeling the Space - Apple 01973
we start off the Women Power program with some trad rock and blues selected by Heavy Friend Lady Diane
There's A Party Goin On
Wanda Jackson - There's A Party Goin On - Capitol 01961 (RE 2012)
Mine All Mine
La Ver Baker - La Vern - Rumble Records (orig) 01959
Shake It, Baby
JessieMae Hemphill - Feelin' Good - Sutr Park 01990)
followed by some basement, south african, and rebel vibes chosen by Lady Jessica
In the Basement
Etta James - 7" - Cadet 01966
Djiguiira
Miriam Makeba - Appel - Bolibana 02012
Rebel Girl
Bikini Kill - 7" - Kill Rock Stars 01992
and soulful voices from different ends of the sonic spectrum brought to you by Lady Karin. A reminder that Juliana Barwick is playing in Montreal April 17th at Nomad Nation
You're No Good
Linda Ronstadt - Heart Like A Wheel - Capital 01974)
The Harbinger
Juliana Barwick - Nepenthe - Dead Oceans 02013

and the fiery powerful latina women voices brought to you care of Lady Devora
Preferio el Asfalto
Nina Dioz - Soundtrack to Rudo y Cursi - EMI 02008
Elegancia Tropical
Bomba Estereo - Pure Love - National Records 02013
and finally, some post-punk, drones and funk selected by Lady Natasha...also with a reminder to check out The Julie Ruin on April 4th at Il Motore
Just My Kind
Julie Ruin - Wild Things Run Fast - Julie Ruin Records 02013

Make It Up
The Blow - The Blow - Kanine 02013

WhaleSong
Yamantaka//Somic Titan - Uzu - Suicide Squeeze 02013


Spit Three Times
Neneh Cherry - Blank Project - Smalltown Supersounds 02014

And from there, onto the 'Name That Astral Folk Goddess' game....let the games begin!!!!
Remember
Yma Sumac - Miracles - London 01971
No Blood in Bone
The Poppy Family Susan Jacks - Which Way You Going Billy - London 01969

The Old Man On The Corner
Fraser and Debolt - Fraser and Debolt - Fallout (orig) 01971

Messenger Birds
Mellow Candle - Swaddling Songs - Deram 01971
Portland Town
Marianne Faithfull - Come My Way - Decca 01965
Vos Recomecar
Gal Costa - Gal Costa - 4 Men With Beards (orig 01969)
Monongahela
Linda Cohen - Lake of Light - United (01973)
The Kiss
Judee Sill - Heart Food - Asylum (01973)
Paper Mountain Man
Linda Perhacs - Pararellelograms - Sunbeam (02008)
a big thank you to all the wonderful women who joined me in the studio tonight and who tuned in...and thanks also to our men friends who tuned in and who help smash the patriarchy on a daily basis....