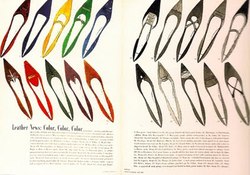 Heavy Friends
Saturday October 12th, 2013 with Lady Mary
Hitchhiking in Universal Shoes
Remember your shoes if you're hitchhiking! tracks in honour of the publication of the Hitchhiker's Guide; and the Khruschev outburst and shoebanging; and birthdays of Carlos the Jackal, Linval Thompson, and Jane Siberry....
In 1979 on this date, Douglas Adams' Hitchhiker's Guide to the Universe was first published...a few tracks about hitchhikers, in honour of Arthur Dent and the Magrathean Heavy Friends out there...
Heavy Heavy Heavy
Geraldo Pino and Heartbeats - Afro Rock - Kona 02009
Hitchiker
Neil Young - Le Noise - Reprise 02010

African Hitchiker
Lee Scratch Perry - From the Secret Laboratory - Island 01990
turning from the search for the answer to everything, to a questionable and shadowy figure, we mark the birthday of Carlos the Jackal (aka Ilich Ramirez Sanchez), on this date in 1949
What's Up, Jackal
Oneida - Rated O - Jagjaguwar/Brah 02009
Jackal
Mandingo - Savage Rite - EMI 01977
Jackals, False Grails: The Lonesome Era
Pavement - Slanted and Enchanted - Matador 01992
Year of the Jackal
Damned - Anything - Island 01986
and from a controversial, prolific agitator and killer, to a uncontroversially acclaimed great and prolific producer, Linval Thompson, born on this date in 1954
Freedom Version
LInval Thompson - Whip them, King Tubby - Auralux 02004
Peace and Love
Dubmatix with LInval Thompson - Renegade Rocker - Echo Beach 02009

Whip them King Tubby
Linval Thompson - Whip them King Tubby - Auralux 02004
and from the streets of Kingston to the streets of Toronto, for the birthday of Jane Siberry, born on this date in 1955 and playing at Shenkman Center this Thursday October 17th. https://www.songkick.com/concerts/17669884-jane-siberry-at-shenkman-arts-centre
Follow Me
Jane Siberry - No Borders Here - Duke Street 01984

Everything Reminds Me of My Dog
Jane Siberry - Bound by the Beauty - Duke Street 01989

Calling all Angel
Jane Siberry - When I Was A Boy - Reprise 01993

One More Colour
Rheostatics - Introducing Happiness - Sire 01994

On this date, or maybe on tomorrow's date, in 1960 at the UN, Khruschev allegedly engaged in shoe-banging in response to allegations of denial of civil and political rights in Eastern Europe...what colour shoe, we ask?
Old Brown Shoe
Beatles - Jey Jude - EMI 01970
Stranger in blue Suede Shoes
Kevin Ayers - Whatevershebringswesing - BGO 01988
Paper Shoes
Yoko Ono - Plastic Ono Band - Apple 01970
Red Shoes
Tom Waits - Blue Valentine - Asylum 01978
Have Shoes, Will Walk
Pere Ubu - New Picnic Time - Chrysalis 01979
Steel Shoe
High on Fire - Art of Self Defence - Tee Pee 02001
Big Black Baby Shoes
Captain Beefheart - Safe as Milk - Buddah 01960
These Boots
Nancy Sinatra - Boots - Reprise 01966
Dirty Boots
Sonic Youth - Goo - DGC 01990
Bata Motel
Crass - Penis Envy - Crass Records 01980
Pruda's Shoes
Bayete Umbra Zindiko - Seeking other Beauty - Prestige 01972