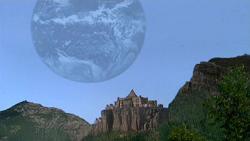 Heavy Friends
Saturday June 22nd, 2013 with Lady Mary
Solstice Utopian Supermoon!
Solstice Utopian Supermoon! featuring tracks celebrating the start of summer, the upcoming Supermoon, and the Wizard and True Star!
Heavy Heavy Heavy
Geraldo Pino and the Heartbeats - Afro Rock - Kona 02009
Over the Summer
Sparks - Introducing Sparks - CBS 01977
Summer Breeze
Jackie Mittoo - The Keyboard King of Studio One - Soul Jazz 02000
The Things We did Last Summer
Grant Green - Nigeria - Blue Note 01980
The Hissing of Summer Lawns
Joni Mitchell - The Hissing of Summer Lawns - Asylum 01975

Summer Wine
Lee Hazelwood and Nancy Sinatra - Lee and Nancy - Reprise 01968
Summer Wheel
Art Bears - Winter Songs - Recommended 01979
Midnight Summer Dream
Stranglers - Feline - CBS 01982
Summer Wind
Shadowy Men on a Shadowy Planet - Savvy Show Stoppers - Cargo 01990

Summer Leaves
People of the North - Deep Tissues - Brah 02010
turning from the solstice to the supermoon.... check it out, 7:30 a.m. Monday EST will be at its fullest, but best seen in the dark hours just prior to dawn Monday
Moon Curse
Nash the Slash - Dreams and Nightmares - Cut Throat 01979

By the LIght of the Magical Moon
T Rex - 7" - Regal 01970
Hung from the Moon
Earth - The Bees Made Honey in the Lion's Skull - Southern Lord 02008
Silburn Moon
Julian Cope - 20 Mothers - Echo 01995
That's Amore
Dean Martin - 7" - Capitol 01953
Underwater Moonlight
Soft Boys - Underwater Moonlight - Matador 01980
Grapefruit Moon
Tom Waits - Closing Time - Geffen 01973
Earth Sun Moon
Love and Rockets - Earth Sun Moon - Vertigo 01987
Mountains of the Moon
Grateful Dead - Aoxomoxoa - WB 01969
and from the rainy moon to the soundstorm of Todd Rundgren, born on this date in 1948 outside Philly; multiinstrumentalist, songwriter, singer, and producer of PSG and Hillage, among others...
Rain Rider
Nazz - Nazz II - SGC 01969
Open My Eyes
Nazz - Nazz - SGC 01968
I Saw the LIght
Todd Rundgren - Something/Anything? - Bearsville 01971
The Last of the New Wave Riders
Utopia - Adventures in Utopia - Bearsville 01980
Feel too Good
Utopia - Deface the Music - Bearsville 01980
One World
Utopia - Swing to the Right - Bearsville 01982
In and Out the Chakras We Go
Todd Rundgren - Todd - Bearsville 01974
Citizen Ship
Patti Smith Group - Wave - Arista 01979
Lunar Musick Suite
Steve Hillage - L - WB 01976
Singring and the Glass Guitar
Utopia - Ra - Bearsville 01977