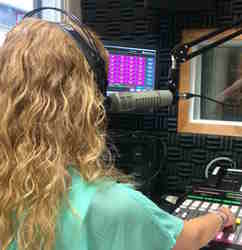 Friends with Benefits
Tuesday July 14th, 2015 with Chris White
A Tribute to Tonya!
Regular "Friends with Benefits" host Tonya Price is away... and we will play! Yes, we will play some of her favourite songs as a tribute to her impeccable taste in music, her enthusiastic support of the music scene, and her always-positive vibe! Here's to Tonya!
Mo Kenney, Tanya Tagaq and Jenn Grant were in Tonya's "Top 10" list for 2014. You can listen back to the show at http://cod.ckcufm.com/programs/404/20173.html
Telephones
Mo Kenney - In My Dreams

No One's Gonna Love You (Quite Like I Do)
Jenn Grant - Compostela

Caribou
Tanya Tagaq - Animism

Hey Rosetta, The War on Drugs, The Darcys and Paris & Jason Romero were among the artists Tonya played on her birthday show on May 12th as part of her theme, "It's my birthday and I'll play what I want to..." You can listen to that show at http://cod.ckcufm.com/programs/404/22046.html
Soft Offering (For the Oft Suffering)
Hey Rosetta - Second Sight

Horses Fell
The Darcys - Warring

Goodbye Old Paint
Pharis & Jason Romero - A Wanderer I'll Stay

Catriona Sturton plays Bluesfest this Friday, July 17th at 8:15 (www.catrionasturton.com). She'll be joined on stage by her former Plumtree bandmates Carla and Lynette Gillis who are now in the band Overnight (www.overnightmusic.ca). Tonya interviewed Catriona about her "Bumblebee" CD release here: http://cod.ckcufm.com/programs/404/20273.html
Bumble Bee
Catriona Sturton - Bumble Bee

Calling From My Pants
Catriona Sturton - Bumble Bee

Unsinkable
Overnight - Carry Me Home

Four O'Clock
Good Lovelies - Burn the Plan


Whitehorse, Royal Canoe and Corb Lund were part of a cross-country musical adventure on Tonya's Canada Day program. You can listen to the entire show here: http://cod.ckcufm.com/programs/404/22745.html
Baby What's Wrong?
Whitehorse - Leave No Bridge Unburned

Hurtin' Albertan
Corb Lund - Counterfeit Blues

Gone Too Soon
Catherine MacLellan - The Raven's Sun