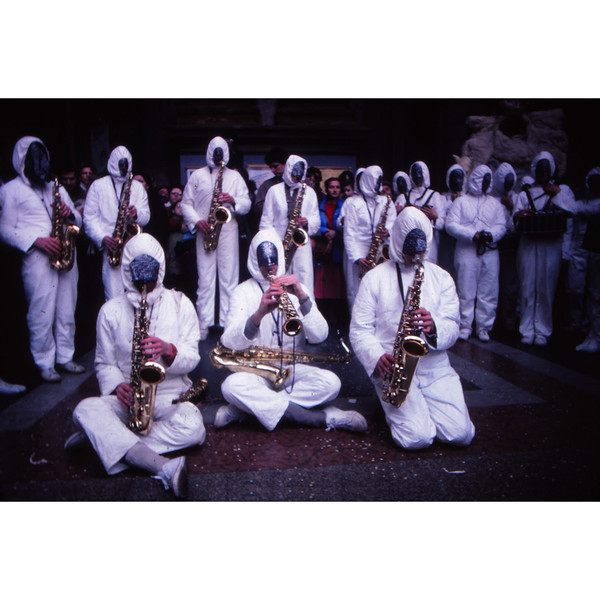 Sunday Night Mind Melt
Sunday March 24th, 2019 with Bijon Roy
Paris - Part IV: Paris Aftermath
This is part four in our series on music from Paris... in which we conclude our urban excursion and return to more familiar, provincial climes...
Paris - Beautiful May
Richard Pinhas - East West - CBS (01980)
And now, some Urban Sax -- a very unique apocalyptic saxophone orchestra project by Gilbert Artman (Lard Free)...

Many thanks to Chris I for tipping me off to this excellent project while filling in on the Mind Melt last year!
Urban Sax (Part 1)
Urban Sax / Gilbert Altman - Urban Sax - Cobra (01977)
Urban Sax (Part 3)
Urban Sax / Gilbert Altman - Urban Sax 2 - Cobra (01978)
Drones, dubs, and meditations, including a new release from French artist and musician Félicia Atkinson...
Peaks
Total Life - Total Life - Animal Disguise (02005, 02007)
12 Ø Dub
Palta & Ti - Palta Og Ti På Den Tolvte Ø - 12th Isle (02018)
All Night I Carpenter
Félicia Atkinson & Jefre Cantu-Ledesma - Limpid As The Solitudes - Shelter Press (02018)

Meditation - Part 1
Eberhard Schoener - Meditation - Kuckuck (01973, 01982)
Flux (A Big, Bright, Colourful World)
David Sylvian & Holger Czukay - Flux + Mutability - Virgin (01989)
Rhizosphere
Richard Pinhas - Rhizosphere - Cobra, Aural Explorer (01977, 01978)
Inevitably and much too soon we must return to colder, more familiar climes...
Far From The Warming Sun
Light Conductor - Sequence One - Constellation (02019)


Wintermusic
Richard Pinhas - Iceland - Polydor, Superior Viaduct (01979, 02018)