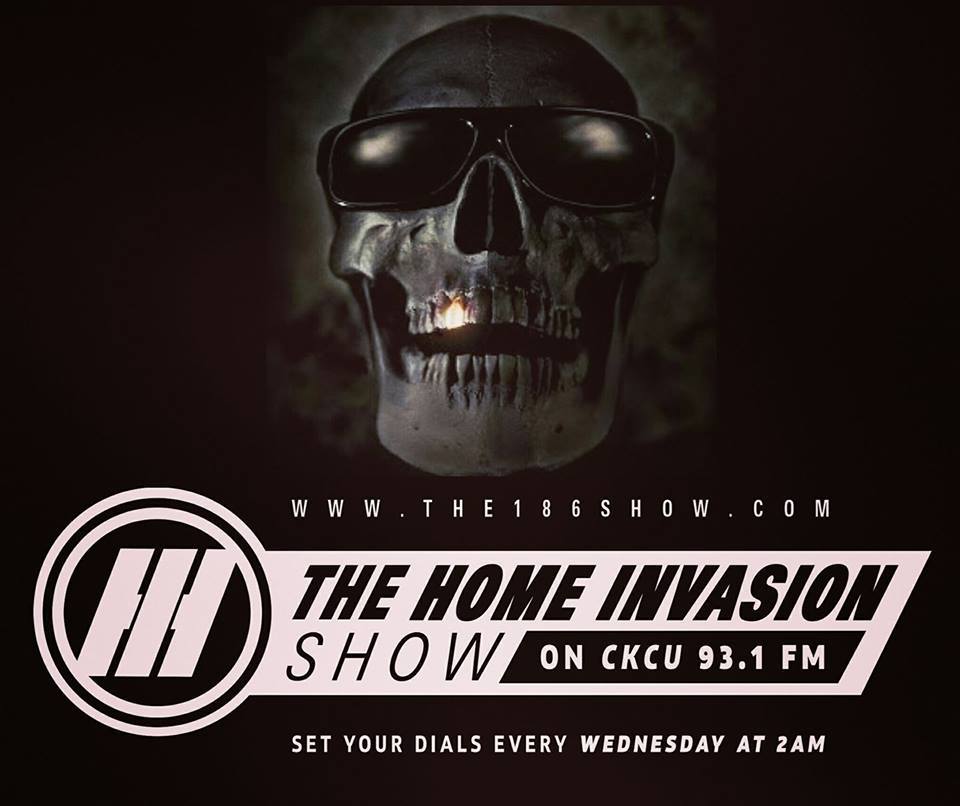 The Home Invasion Show
Thursday October 26th, 2017 with Livin' Large
~Halloween 2017~
I'm The Fuckin' Murderer
Spice 1 - 187 He Wrote
Black Nigga Killa
Eazy-E - Ruthless Records Tenth Anniversary Compilation: Decade Of Game
Down '71 (Prerelease)
Bone Thugs-N-Harmony - DJ U-Neek Presents: Bone Classics
Murder Was The Case (DeathAfterVisualizingEternity)
Snoop Doggy Dogg Feat. Dat Nigga Daz - Doggystyle
Gotta Get Mine (Extended Mix)
Infinite Feat. Divine Brown - 360°

Last Days
Kid Frost Feat. Above The Law & Kokane - Smile Now, Die Later
Quick $
Full Circle - Infinite Edges

Customs
Xolisa - And Gaps Do Lead to Bridges

Fire From The Gun
L.V. - I Am L.V.
Love Rollercoaster
Ohio Players - Honey
Murda Murda
DJ U-Neek Feat. Layzie Bone, Lethal of NX & L-Jay - Ghetto Street Pharmacist
Demons Surround Me
Bizzy Bone - Heaven'z Movie
Kurupted Flesh
Flesh N Bone Feat. Kurupt - 5th Dog Let Loose
Drive U2 Suicide
Esham - Closed Casket
X Is Coming
DMX - It's Dark & Hell Is Hot
Hail Mary
2Pac Feat. The Outlawz - The Don Killuminati: The 7 Day Theory
Mo' Murder
Krayzie Bone - Mo Thugs Family Scriptures
The Tower
Ice-T - O.G. Original Gangster
Six Million Ways
South Central Cartel Feat. MC Eiht - The Rhime Son
Thriller
Michael Jackson - Thriller
Return Of Da Living Dead
The D.O.C. - Helter Skelter
Natural Born Killaz
Ice Cube & Dr. Dre - Murder Was The Case Soundtrack
Mo' Murda
Bone Thugs-N-Harmony - E 1999 Eternal
Face Mob
Facemob Feat. Scarface - Tales From The Hood Soundtrack
Thin Line
Point Blank - X History

Have You Ever Gone Crazy?
Dynamic - A Collection Of Thoughts (EP)

Hip Hop Heaven
One Be Lo - The R.E.B.I.R.T.H.
She Put A Spell On Me
Kokane - King Of G Funk
The Murda Show
Spice 1 Feat. MC Eiht - 187 He Wrote
Partyman
Prince - Batman Soundtrack
Say Yeah
Alibi - Say Yeah (Single)

Unbreakable
Sty-Low - Unbreakable (Single)


Fades Away (Remix)
Saukrates Feat. JD Era, Tona, Mathematics - Fades Away (Single)

Float On
Dream Warriors - The Master Plan

So Cold
BlakDenim - Vanguard(En)

Wake Up
Rita Carter Feat. Jahnear - Wake Up (Single)


Harbor
SORU - Harbor (Single)


Write About Me
Tara Don - Write About Me (Single)


Rotation
Black Orchid - Rotation (Single)

Insatiable
Nile Groove - Insatiable


Epilogue: Long Jawn
Shad - Flying Colours