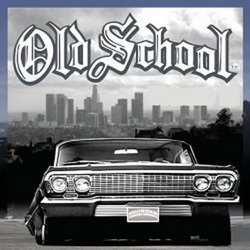 The Home Invasion Show
Thursday January 30th, 2014 with Livin' Large/Masai/Apollo
~Diggin' In The Crates~
The Home Invaders talk love of Hip-Hop and stuff around Ottawa
Dreamchaser
Dan-E-O Feat. Charisma a.k.a. Skizzz & Brotha J - Inevitable

All On My Nut Sac
Da Lench Mob Feat. Ice Cube - Guerillas In Tha Mist
The A Train
Yomo & Maulkie - Are U Xperienced?
No Luv 4 Da Law
Bone Thugs-N-Harmony - The Lost Files
The Funky Cypress Hill Shit
Cypress Hill - Cypress Hill
God Only Knows
Point Blank Feat. Mark McKay - Point Blank

This Right Here
Big Prodeje & Big Willie Feat. Cali Pitts & LV - Everythang Hood
I Remember
Coolio Feat. Billy Boy, J-Ro & G.A.T.S. - It Takes a Thief
Late Night Hype
Compton's Most Wanted - It's A Compton Thang
Voyage To Atlantis
The Isley Brothers - Go For Your Guns
U.P.L.
Poetic Elements - The Last Year

Postal
Souls Of Mischief - Montezuma's Revenge
Dream On
The Slakadeliqs - The Otherside of Tomorrow

Rain Water
Brother Ali - Champion EP
Freq Freq
Clear Soul Forces & Kooley High - Freq Freq (Single)
Baby Mama Drama
Prehistoric Feat. Tragic - Walking Backwards On An Escalator

Dream Within A Dream
Odd Ounce - Acropolis Apocalypse


This Town
Alex Silas Feat. Bryan Ruckstuhl - Roots

Diamonds in the Rough Draft
E.ON - Echo in the Artisan

The Best Secret
Pete Rock Feat. Lords Of The Underground - NY's Finest
A Dream Come True
Nottz - You Need This Music
Daydreamers Theme
Smash Brovaz - Think It's A Game?

The Blast
Reflection Eternal - Train Of Thought
Proceed V (Beatminerz Remix)
The Roots - Proceed V (Single)
Wonder Years
The Get By - Wonder Years (Single)

Hot Like The Summer
Saukrates Feat. Andreena Mill - Hot Like The Summer (Single)

Skunk
Choclair Feat. Kurupt - Skunk (Single)

Ecstasy
Ohio Players - Ecstasy
Brooklyn's Finest
Jay-Z Feat. The Notorious B.I.G. & Clark Kent - Reasonable Doubt
Hollywood
Bruce Hathcock - Miracle Mile
So Into You
Tamia - Tamia

This Time
Ox Feat. Plexx - Only One (For The Fans Vol. 2)
Baby
DJ Jazzy Jeff & Ayah - Back For More

Don't Let Me Be Lonely Tonight
Isaac Hayes - For The Sake Of Love