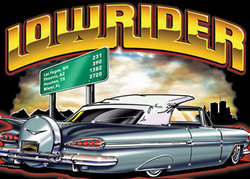 The Home Invasion Show
Thursday August 22nd, 2013 with Livin' Large
~Show Debut~
Debut show on CKCU FM with a mix of Hip-Hop, Soul/Funk and R&B bringing you VERY best from Sunny California and all over ~Dedicated to the OG's all around the world~
West Up!
WC And The Maad Circle - Curb Servin'
Peep Game
2Pac Feat. Threat - Strictly 4 My N.I.G.G.A.Z.
Alwayz Into Somethin'
N.W.A. - Niggaz4Life
Thin Line
Point Blank - X History

More Bounce To The Ounce
Zapp - Zapp
Boyz N Tha Hood (G-Mix)
Eazy-E - It's On (Dr. Dre) 187um Killa
Do Or Die
B.G. Knocc Out & Dresta - Real Brothas
Rose Garden
Shad Feat. Lisa Lobsinger - Tsol

Knock On Wood (Remix)
Murder Squad Feat. Evilside G's, B.G. Knocc Out & Dresta, Gripsta, Jayo Felony, Sh'killa - Knock On Wood Single
Stick To Your Vision
Maestro Fresh-Wes - Built To Last

I'm Your Man
Bobby Taylor And The Vancouvers - Bobby Taylor And The Vancouvers

Neva Again
Kam - Neva Again
Depths Of Hell
Ice-T Feat. Daddy Nitro - Home Invasion
N 2 Deep
Compton's Most Wanted Feat. Scarface - Music To Driveby
Break Yourself
Spice 1 Feat. Ant Banks - Spice 1
On The Road
ASN Feat. AZ, F.T., P.A. & Kiesha Shontelle - On The Road [Single]

X History
Stump (of Point Blank) - X History

Came-Up
Dead Prez/Outlawz Feat. Layzie Bone - Can't Sell Dope Forever
The Mental
Prince Ali (a.k.a. P.A.) - Rhythmicism Blvd EP

Exit The Stage
Poetic Elements - 1

Down For The Real
Brand Nubian - Everything Is Everything
Devotion
Earth,Wind & Fire - Open Our Eyes
Africa
Zo! & Tigalo - Love The 80's!
Cars
Kool G Rap & DJ Polo - Road To Riches
The Funky Cypress Hill Shit
Cypress Hill - Cypress Hill
Guerillas In Tha Mist
Da Lench Mob - Guerillas In Tha Mist
No Fuss No Fight
Red1 Feat. Barrington Levy - Beg For Nothing

Thuggish Ruggish Bone (DJ U-Neek's Remix)
Bone Thugs-N-Harmony - Foe Tha Love of $ (Single)
U Can't Find Me
Masta Ace - Sittin' On Chrome
Ridin', Slipin' And Slidin'
Tha Dogg Pound - Dogg Food
It's Like That
MC Ren Feat. J-Rocc & Cold 187um - The Villain In Black
God Only Knows
Point Blank Feat. Mark McKay - Point Blank

The Throwback
Tone Mason Feat. Brassmunk, G Stokes & Graph Nobel - The Throwback (Single)

Sexy Mama
The Moments - Smooth Grooves: A Sensual Collection, Vol. 9
ShoYoAss
The Coup - Pick A Bigger Weapon
Do You See
Warren G - Regulate...G Funk Era
La Raza
Frost - Hispanic Causing Panic
I'd Rather Be With You
Bootsy's Rubberband - Stretchin' Out In (Bootsy's Rubberband)
Take Your Time
Pete Rock Feat. Loose Ends - Soul Survivor
Relax
Marco Polo Feat. J*Davey - Port Authority

Private Symphony (Remix)
Maestro Fresh-Wes - The Black Tie Affair

Get Up On It (Mix)
Keith Sweat Feat. Kut Klose - Get Up On It (Single)
So Good
Pharoahe Monch - Desire
Sky Write
Poetic Elements - 1

Float On
The Floaters - Float On