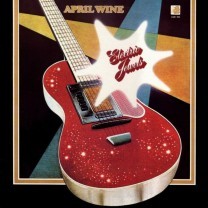 Cool Cuts
Thursday June 23rd, 2016 with Chris Sharp
Fifth Annual Canada Day Show!
60's and 70's music from all over Canada is featured for your aural perusal.
We open the show with bands and musicians that originated in Canada's eastern provinces.
Bud The Spud
Stompin' Tom Connors - Bud The Spud and other favorites(1969)

Turn Around
Pepper Tree - You're My People(1970)

Just Like That
April Wine - Electric Jewels(1973)

Can't You See
Minglewood Band - Best of Minglewood: Smokers(1981)

For the second set we travel to Winnipeg to listen to some bands that originated in the province of Manitoba.
Life In The Bloodstream
The Guess Who - So Long, Bannatyne(1971)

Don't Stop Now
Heavy Cruiser - Heavy Cruiser(1972)

Welcome Home
Bachman-Turner Overdrive - Bachman-Turner Overdrive 2(1973)

Action
Streetheart - Meanwhile Back In Paris...(1978)

Sweet Things In Life
Harlequin - Victim Of A Song(1979)

Next we move on to the western side of the country,The Hometown Band was based in Vancouver, Long John Baldry eventually settled down there also,The Incredible Bongo band was produced in studios in Vancouver(but never actually existed). 49th Parallel, Painter and the Stampeders were all based in Calgary.
Ready
The Hometown Band - Flying(1976)

Intro: Come Back Again
Long John Baldry - Everything Stops For Tea(1972)

Let There Be Drums
Michael Viner's Incredible Bongo Band - Bongo Rock(1973)

Ramona
Stampeders - The Best of Stampeders(1978)

Talk To Me
49th Parallel - 49th Parallel(1969)

Goin' Home (to Rock'n'Roll)
Painter - Painter(1973)

The next bunch of bands and musicians were based in Eastern Ontario(notably Ottawa). Ian Tamblyn has been based in Chelsea Quebec for most of his professional life. Cano was based in Sturgeon Falls as an artists commune. The Cooper Brothers were produced by Les Emmerson early on in their career.
Coast To Coast Fever
David Wiffen - Coast To Coast Fever(1973)

Guitar Truck Driving Man
Ian Tamblyn - Ian Tamblyn(1976)

Carrie
Cano - Spirit Of The North(1980)

Good Feeling(To Know)
Octavian - Simple Kinda People(1975)

Miss Lonely Heart
The Cooper Brothers - 7 inch single(1974)

Fall
Fist - Round One(1978)

We close the show with musicians and bands native to or based in Montreal in the 70's.
Rainbow Ride
Andy Kim - VA:24 Power Hits(1969)

A New Rock and Roll
Mahogany Rush - Child of The Novelty(1974)

Seasons
Moonquake - Moonquake(1974)

I Don't Believe It's You
Pagliaro - Pagliaro 1(1975)

Bad Apple
David Wilcox - Out Of The Woods(1980)

Thank you for listening. Next show broadcasts July 7.