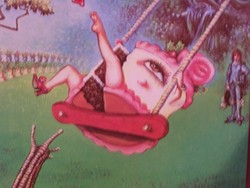 Cool Cuts
Thursday January 8th, 2015 with Chris Sharp
1972
Releases from the year 1972,the best year in popular music it says here,will be featured.
1972 heralded some excellent releases by bands and musicians based in Los Angeles.A few are featured in this opening set.
Nighthawkin'
Tim Buckley - Greetings From L.A,(1972)
Cadillac Cowboys
Spirit - Feedback(1972)
Tripe Face Boogie
Little Feat - Sailin' Shoes(1972)
Find Somebody
Arthur Lee - Vindicator(1972)
A Good Feelin' To Know
Poco - A Good Feelin' To Know(1972)
Next up:some excellent U.K.prog/hard rock releases made their way to the public in 1972.Here is a small sampling.
Turning The Lights Out
Rare Bird - Epic Forest(1972)
Don't Know What Went Wrong
Atomic Rooster - Made In England(1972)
Burlesque
Family - Bandstand(1972)
Break The Chains
Khan - Space Shanty(1972)
Spearheaded by the singer-songwriter movement of the late 60's,these Canadian musicians enjoyed success in 1972.
Concrete Sea
Terry Jacks - 7 inch single(1972)

Rainshowers
Pagliaro - 7 inch single(1972)

Isn't That So?
Jesse Winchester - Third Down,110 To Go(1972)

Dunrobin's Gone
Brave Belt - Brave Belt 2(1972)

You Are What I Am
Gordon Lightfoot - Old Dan's Records(1972)

Rock 'n' Roll Song
Valdy - Country Man(1972)

Next set:American hard rock-the first three releases,all considered classics now,were overlooked at the time.Who could ever overlook Alice Cooper in 1972?
I'm Coming Back For You
Elf - Elf(1972)
Don't Lie To Me
Big Star - #1 Record(1972)
You Came To Me
Morley Grey - The Only Truth(1972)
Public Animal 9
Alice Cooper - School's Out(1972)
Now we feature some r'n'b influenced releases from 1972.We remember U.K. vocalist Joe Cocker, who passed away Dec. 22 of 2014.
Woman To Woman
Joe Cocker - Joe Cocker(1972)
Wolfman Jack
Todd Rundgren - Something/Anything(1972)
Hairy Hippie
Bobby Womack - Understanding(1972)
The World Is A Ghetto
War - The World Is A Ghetto(1972)
I Will Be There
Van Morrison - Saint Domenic's Preview(1972)
We finish off with apocalyptic releases from a Greek band led by Vangelis, then an Israeli band that goes epic in it's last shot at the ring.Where were you Back in '72?
The Four Horsemen
Aphrodite's Child - 666(1972)
Kill Me With Your Love
Jericho - Jericho(1972)
Thank you for listening.Next show broadcasts Jan. 22.