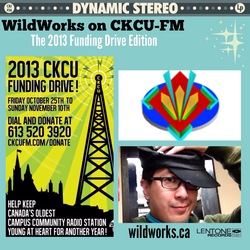 WildWorks
Monday October 28th, 2013 with Lenny Wu
It's The First Funding Drive Show For 2013 Edition
It's that time of year again as CKCU is having its Funding Drive for 2013. The goal is $127,000. The wacky idea for this year is to get my haircut and if you donate to have Ryan of Whatever's Cool With Me, you can suggest what style he can cut. It's the Halloween themed edition as well. Blog is now at
http://wildworks.ca/
Twitter and Instagram - wildworks
RIP Lou Reed
Walk On The Wildside
Lou Reed - Transformer - RCA
Flashbulb Eyes
Arcade Fire - Reflektor - Merge/EMI


Halloween Tunes
Graveyard
Feist - Metals - Arts & Crafts

Monster Mash
Bobby "Boris" Pickett - Monster Mash - Single - Garpax
No Ghost
The Acorn - No Ghost - Paper Bag Records

Howl (Like Wolves)
Grand Analog - Modern Thunder - The Shadow Cabinet Music Group Ltd.


Werewolves
Still Life Still - Mourning Trance - Arts & Crafts


Bones In The River
Michael Feuerstack - Tambourine Death Bed - Forward Music Group

Demon
Kandle - In Flames - Dare To Care Records


Magic
Two Hours Traffic - Foolish Blood - Bumstead

Continuing the tribute to Anita Mui. Hong Kong singer/actress. 10th anniversary of her passing.
Stand By Me
Ben E. King - The Very Best of Ben E. King
Stand By Me
Anita Mui - 夢裡共醉 (Drunken Dreams)
心仍是冷 (The Heart Is Still Cold)
Anita Mui - In Memory of Anita Mui