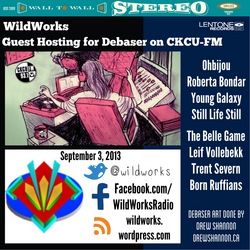 WildWorks
Tuesday September 3rd, 2013 with Lenny Wu
Guest Hosting for Debaser
An ode to Ohbijou as they go on an indefinite hiatus.
Memoriam
Ohbijou - Beacons - Last Gang Records

Some local loudness.
Pleather Bed
Roberta Bondar - Hiss - EP

Knife In The Water
Metz - Metz - Sub Pop

Playing at The Black Sheep Inn on September 4th. It's sold out!
Ghosts
Motel Raphael - Ghosts - Single

Playing some of the acts who are performing at Ottawa Folk Festival. From September 4-8th.
Salt + Water
The Belle Game - Ritual Tradition Habit

Where You End Up
Dave Norris & Local Ivan - They Let You Paint Your Darker Dreams

Photographer Friend
Leif Vollebekk - North Americana

Road Less Travelled
Trent Severn - Trent Severn

Rage Flows
Born Ruffians - Birthmarks - Paper Bag Records

An epilogue to Summer tracks of 2013.
Jewel
Gold & Youth - Beyond Wilderness - Arts & Crafts

Jasper
Louise Burns - The Midnight Mass - Light Organ Records


New new new!
Crying My Heart Out
Young Galaxy - Ultramarine (Deluxe Edition) - Paper Bag Records


Dancing Spines
Still Life Still - Mourning Trance - Arts & Crafts


Mirror
Lightning Dust - Fantasy


One
Yamantaka // Sonic Titan - Uzu - Paper Bag Records


Thank you for listening in.